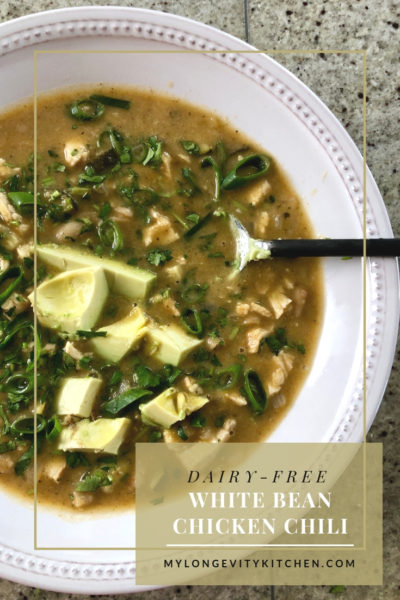 White Bean Chicken Chili
2018-12-20 15:48:48
Serves 4
Not much can beat a warm bowl of chili when the snow starts fallin'…especially when it's on the table in 45 minutes. I'll show you how to make this traditional white chili without the dairy, and still get a rich and thick, comforting meal. You might want to double up the portion of roasted chicken you make because this easy spice mixture makes the chicken breast irresistible!
Chicken
1 to 1.5 pounds Organic Boneless Skinless Chicken Breasts (skinless & bone-in works too)
1/2 teaspoon Chili Powder
1/2 teaspoon Fine Sea Salt
1.5 Tablespoons Extra Virgin Olive Oil
Chili
2 Tablespoons Extra Virgin Olive Oil
1 White or Yellow Onion
3 Garlic Cloves
1 Organic Zucchini, Diced Small
1 teaspoon Fine Sea Salt
1 Tablespoon Chili Powder
1 Tablespoon Ground Cumin
1 teaspoon Dried Oregano
3 Cups Chicken Bone Broth
1 Cup Salsa Verde (see notes)
1-15 oz Can Eden Organic Cannellini Beans, drained & rinsed (see notes)
Fresh Lime Juice
Optional Garnishes
Jalapeno
Scallion
Fresh Cilantro
Avocado
Instructions
Preheat oven 350 Degrees F. Line a baking sheet with foil or parchment and drizzle with 1.5 Tablespoons of Oil.
Line a cutting board with paper towels, and pat the chicken breasts dry. Cut the breasts in half (favoring the thinner side will help it cook more evenly), and separate the tenders if they are still attached.
Season the chicken with the chili powder and sea salt. Transfer the breasts to the baking sheet and turn them to coat them in oil. Roast the chicken for up to 30 minutes for larger pieces, and check it at 15 minutes for chicken tenders.
Meanwhile, chop 1 onion and mince the garlic cloves.
Heat 2 Tablespoons oil in a soup pot over medium heat, and measure out your chili spices so that they are ready to go (chili, cumin, oregano, salt).
Saute the onions and garlic for 3-5 minutes. While onions and garlic are cooking keep an eye on your roasting chicken.
When chicken is done cooking, remove it from the oven and let it cool.
Add the measured spices to the onions and garlic and stir until fragrant—about 1 min. Add the zucchini and cook for another minute.
Add 3 cups of chicken stock, 1 cup of salsa verde, and drained/rinsed cannellini beans to the pot. Stir. Turn the heat up to medium high and bring everything to a simmer.
Meanwhile, start shredding or dicing your chicken, keep it aside, and pour the chicken juices into the pot. Once your pot is simmering, turn heat down to medium low and cook for 10 minutes.
Scoop out 2 cups of the chili and put it into a blender. Holding the cover down with a kitchen towel, blend until smooth and add it back to the pot.
Now add the chicken to the pot. Cook for 5 more minutes. Squeeze the juice from a half or a full lime.
Taste for salt, and serve with optional garnishes (see ingredient list).
Notes
Salsa Verde: Find this traditional green salsa on grocery store shelves, in the Mexican food aisle; or buy some from your favorite Mexican restaurant.
Eden Organic Cannellini Beans: Eden Organic is the only brand of cooked beans on the market that I know of who prepares them the old-fashioned way. This company actually soaks their beans, dumps the soaking liquid, and cooks them with kombu seaweed (you can't taste it). All of this is very important to eliminate toxins, release digestive enzymes, and make their nutrients more available to us. This brand is sold at Whole Foods Market and Jewel.
My Longevity Kitchen https://mylongevitykitchen.com/