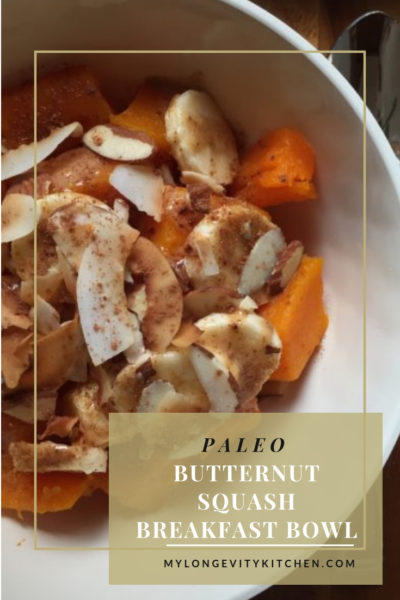 My Inspiration…
It may be difficult at first to imagine your breakfast without grains, but there are plenty of foods to replace the standard oatmeal breakfast. Winter squash is available all year round and makes for a great base in this versatile breakfast.
If you've been following me since January 2016, you would have heard that I created an e-cookbook for participants in the 6-week fitness and diet program called My6Method. This ebook helps My6Method (M6M for short) clients stick to the recommended food list, and get cookin'! This cookbook is exclusive to the M6M participants, but soon I'll be replacing winter recipes with warm-weather recipes. That's why I decided to share a recipe with you…the Butternut Squash Breakfast Bowl!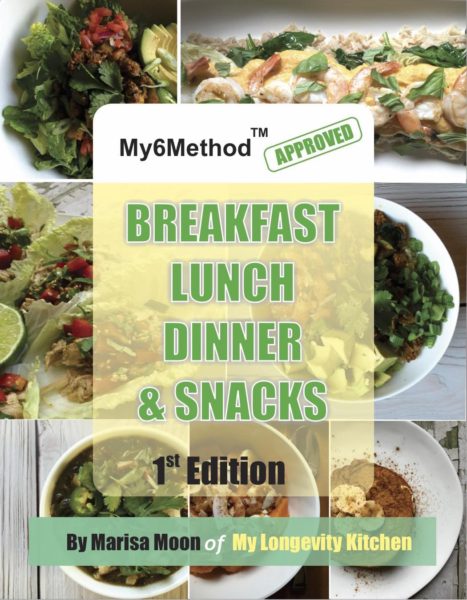 ---
Longevity Tips…
I created this recipe to show oatmeal-lovers that there is a grain-free alternative they will love just the same! It's important for me to point out that I believe protein is a significant part of a healthy breakfast, as well as keeping sugary carbs, grains, or flour-based foods to a minimum (the only instance I believe protein is not important at breakfast is if you practice intermittent fasting and have a breakfast full of healthy fats, like with bulletproof coffee).
A higher protein breakfast will set you up for a day full of satiation and clear thinking. Studies show that protein-rich breakfasts reduce cravings and overeating throughout the day.
That being said, I highly recommend enjoying this butternut breakfast bowl alongside some scrambled eggs & quality bacon (made from pork that is pasture-raised and antibiotic free), or try a simple grass-fed whey protein shake to get your protein in without filling up too much.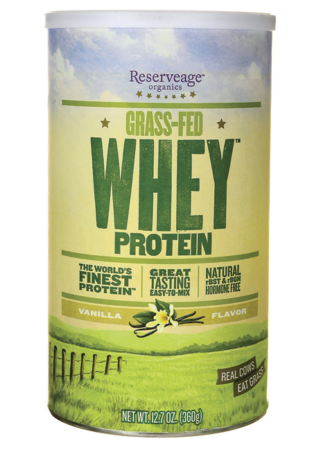 Here's my favorite brand of vanilla grass-fed whey at an affordable price. You can find it on amazon by clicking the photo or previous link, and Amazon usually has the best price! You'll also see this at many Whole Foods Market stores.
---
It's Time To Cook…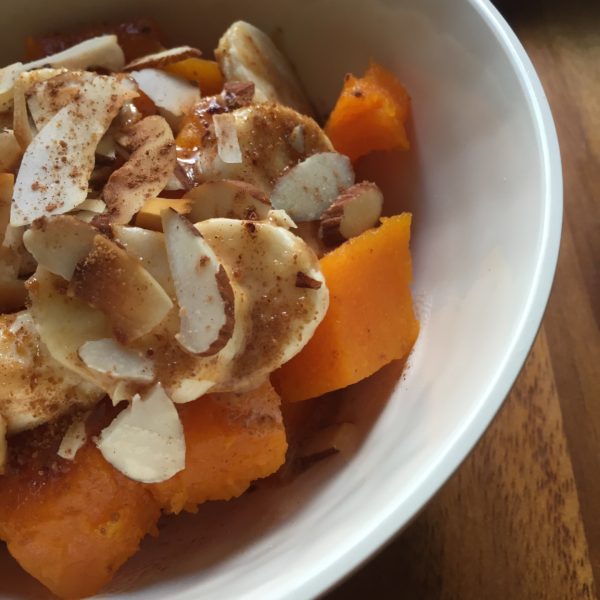 I'll show you how to roast a whole butternut squash, saving you time and effort…have you ever tried slicing raw winter squash? Difficult. So, let's skip that step. This whole-roasted squash technique results in an extra sweet, irresistible flavor that's perfect with breakfast. This recipe is tested and loved by many of the M6M participants, and most of them loved it despite their skepticism!
Learn how to customize your toppings and create a bowl that's perfect for you by seeing my suggestions in the recipe below. Tag me in your creations on facebook and instagram @mylongevitykitchen #mylongevitykitchen. Comment below if you're down with butternut squash for breakfast!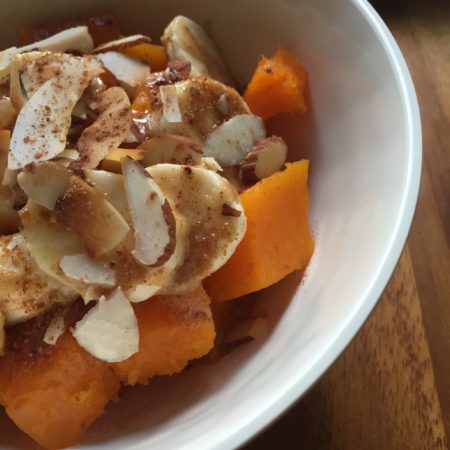 Butternut Squash Breakfast Bowl
2016-04-14 11:21:26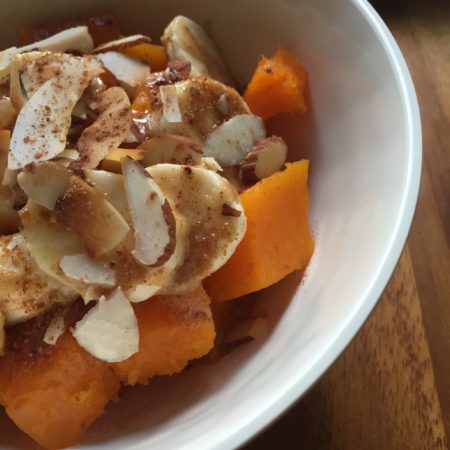 Serves 2
Enjoy a grain-free breakfast full of healthy fats, warm cinnamon, and a touch of sweetness and crunch. Butternut squash can easily be roasted whole in advance. All that's left to do in the morning is assemble your breakfast bowl just the way you like.
Ingredients
1 Small/Medium BUTTERNUT SQUASH, under 2 pounds, roasted whole (see Directions below)
½ FRESH BANANA
2 teaspoons ALMOND BUTTER (preferably sprouted or blanched, but any type of nut butter works)
2 teaspoons RAW HONEY or COCONUT SUGAR (see notes)
PUMPKIN SPICE OR CINNAMON POWDER
2 Tablespoons of CRUSHED OR SLICED NUTS (try pecan, walnuts, or sliced almonds)
OPTIONAL
TOASTED COCONUT FLAKES (see notes)
HOW TO ROAST A WHOLE BUTTERNUT SQUASH
Roast the WHOLE SQUASH the night before so it's ready in the morning. Simply place the whole squash in the oven set at 425 degrees fahrenheit. You can place it in the oven while it preheats (no need to poke holes in the squash, but place a sheet of foil underneath to catch the drippings).
Check your squash after 1 HOUR Stick a fork in the top, bottom, and center to see if it goes in easily. That's a sign your squash is done. If needed you may roast another 30 minutes (90 minutes total) until it's tender on all sides. You want it the softness of a banana, not mush.
Allow the squash to COOL on the counter for 15-30 minutes.
Being careful not to burn yourself, cut the squash lengthwise down the center to open it like a book (don't worry about the stem).
Use a spoon and scoop out the seeds and stringy center.
As if you're cutting an avocado, take the tip of your knife and cut squares into the flesh, but not though the skin. Simply scoop out your cubes of squash with a spoon, just like an avocado.
Portion this in containers for breakfast bowls. You get 2 main-meal servings or 4 side-dish servings per squash. Refrigerate for the morning after.
ASSEMBLING YOUR BREAKFAST BOWLS
Lightly warm your cubed squash in a butter greased pan or in the microwave if preferred. You want it warm, NOT hot.
Warm 2 Tablespoons of ALMOND BUTTER so it's easy to drizzle (run jar under warm water or microwave your portion on low power)
Thinly slice HALF of a BANANA and scatter on your bowl (see notes)
Drizzle on your ALMOND BUTTER
Drizzle on 2 teaspoons RAW HONEY, or sprinkle your bowl with coconut sugar (see notes)
Shake a few dashes of PUMPKIN SPICE or CINNAMON onto your bowl
Top your bowl with CRUNCH NUTS and/or TOASTED COCONUT FLAKES (see notes)
Notes
RAW HONEY: Most honey in the supermarket is not raw, it is heated and filtered and all of the nutrients are destroyed in the process. It is no better than table sugar unless it is truly raw. The best types of raw honey are darker in color, and thicker like peanut butter. Some are not as thick because they have been carefully warmed at a low temperature to loosen the sugar crystals; these versions can still be healthful and raw. Look for "Raw" on the label, and unfiltered is even better! To loosen your honey, place the jar in a bowl of warm water or run under warm water. Be mindful when including honey in your diet because any type of honey is easy to indulge in and high in sugar. Also, honey should not be baked with because the heat destroys the nutritional properties.
COCONUT SUGAR: Coconut sugar is made from the sap of the coconut tree, and processed minimally in two easy steps. You can find it in most supermarkets now, typically in the baking aisle. Coconut sugar is still high in fructose so it should be eaten in moderation. It tastes just like brown sugar so it makes a great substitute for that.
BANANA: Bananas are a treat and can be too much sugar when you eat the whole thing in conjunction with other sugary foods (in this case, we are eating honey/coconut sugar and a starchy vegetable; so the entire banana would be too much). I recommend only half of a banana. Leftover banana? Slice and freeze for smoothies.
TOASTED COCONUT FLAKES: These are all over the grocery store chip aisles now. Grab a bag and read the ingredients for no added sugar. You may also spot them for an even better price in the baking aisle. You can easily toast your own as well by placing them in a dry pan on low heat over the stove. Move the pan frequently until they start to brown and remove.
My Longevity Kitchen https://mylongevitykitchen.com/