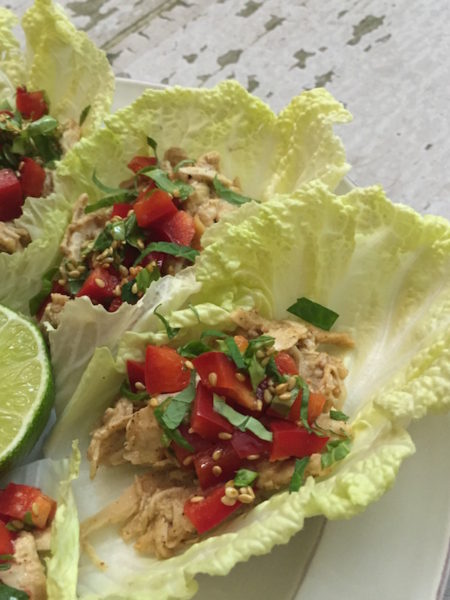 My Inspiration…
This slow cooker paleo chicken recipe uses almond butter, lime, ginger, and coconut aminos to make the perfect asian chicken wraps for the week.
Slow cookers can be such a lifesaver in the kitchen. I'm always telling people about how much I love using them.
I'm always on the lookout for new slow cooker recipes that I can try and test on my friends. Maybe I should take that offer of using CocuSocial, (https://cocusocial.com/) to find cooking classes in my area as they may be able to give me some fresh inspiration, as well as learning new and different tips to help me improve my cooking. It's definitely worth a thought. I always love trying something new, and when it concerns my slow cooker, I'm all for it.
But many of you have horror stories about your slow cooker dinners ending up in the trash. Maybe it's because a lot of recipes use cookie cutter cooking times-such as 8 hours on low and 6 hours on high-but not all recipes turn out well with that amount of time.
Another reason your results don't turn out? Let's face it…there are about 500 different slow cookers on the market, and they range in shape, size, and efficiency. So it's quite possible that our slow cookers are so different that you get a different result. Hang in there.
It's worth figuring out what the problem is because these machines are AWESOME! You can slow cook while you sleep, while you work, and use it to keep food warm at a party (that's how my family rocks out all the Thanksgiving sides on a buffet table).
And slow cooking is how food wants to be cooked. Allowing the food to slowly be broken down, flavors to be mingling over time, and juices releasing in a natural flow yields a dish that always hits home.
Did you know that slow cooking is the most nutritious way to cook? Sites like Compt-Aam know that nutritious doesn't have to mean that you miss out on any of the flavor – and there are always ways to add a little extra, should you feel you need it. With slow cooking, the foods are cooked at a lower temperature which preserves many of the nutrients. This is also a more traditional method (our ancestors used the Earth Oven method, burying the food in the ground to cook and steam on top of hot rocks. P.S. I'm probably going to convince my husband we need one of these very soon, and I don't think he'll need much convincing).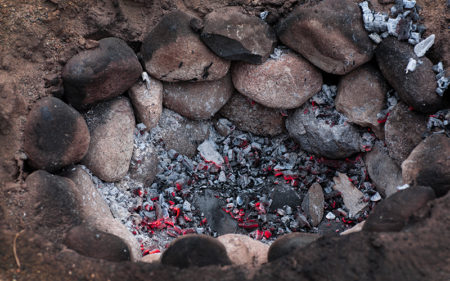 If you already dig the slow cooker concept, or have been eyeing a pressure cooker, then I URGE you to buy one of these Instant Pot Multi-Cookers
These things changed my life. I often give them as gifts because every cook will love them. There's a huge blogging culture revolving around pressure-cooking and instant pot recipes, so you'll be pleased to easily find new recipes for everything! Amazon always has crazy deals on these multi-cookers
so snatch one up online, for sure. This is my secret to a one hour bone broth.

---
Longevity Tips…
Antibiotic-Free Chicken:
Everyone's lining up for organic produce but not many people are willing to throw in a few extra bucks for some quality meat. Shopping for quality meat matters far more than quality vegetables, because the cheap meat is literally killing us.
Have you thought about antibiotics in the food you eat?
Antibiotics used to raise livestock (like chicken, beef, and pork) were banned in Europe years ago, but in America we use 30 million pounds of antibiotics a year in farming (this is 4 times the amount prescribed to humans).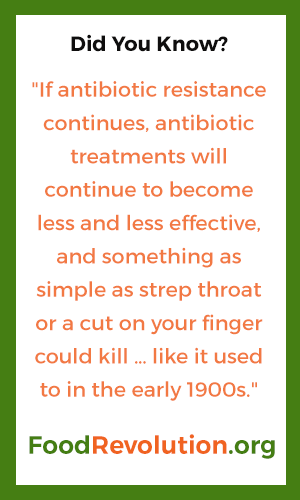 Most people don't think much about it…am I right? I was one of those people.
We'd rather just fiddle through the grocery aisles finding the best deals and getting on with our day. But the antibiotics in that meat are destroying our future…as individuals, as a species, and as a planet. The antibiotics used in farming end up in the meat we eat, changing the bacteria in our GI tract and weakening our immune system; this is exponentially dangerous for children and those fighting illness.
Then, the antibiotic-resisted bacteria, or superbugs, end up in the soil changing the livelihood of the Earth's soil, leading to sterile soil and antibiotic-resistant bacteria that spreads like wildfire, ultimately affecting us all. Bacteria can outsmart us, and they are already doing that at inconceivable rates. Read this article to learn more and get inspired!
Once they appear on the farm, superbugs most definitely move from the farm to the kitchen, via uncooked meat and poultry. Consumer Reports tests of chicken revealed widespread presence of antibiotic-resistant pathogens in retail poultry products. In both years, more than two thirds of chicken samples were contaminated with Salmonella and/or Campylobacter, and more than 60 percent of those bacteria were resistant to one or more antibiotics. -Consumer Union article The Overuse of Antibiotics in Food Animals Threatens Public Health
What to do?
Purchase chicken, beef, and pork with a label that boasts raised without antibiotics or antibiotic-free or simply organic will more than do (although it's a higher price point). Both Whole Foods Market & Trader Joe's are committed to selling only antibiotic-free meat, so you know you're safe with anything from there. Even Perdue chicken has committed most of their farm to being completely antibiotic free (although their chickens don't see the light of day, it's a big move that gives them bragging rights). This is a global mission now, and America can't continue on with this neglect much longer…everyone, everywhere is affected by it. The way animals are treated impacts the way our bodies are treated. Chickens that are allowed to run free in vinyl chicken coops, rather than the ones dosed up on antibiotics and cramped in small spaces, are much better for our bodies to consume.
You owe it to yourself and your family to go antibiotic free.
Want to purchase from a local farm? If you live in the midwest then I highly recommend you order online from Seven Sons. Use my link to save $10 off your order of any size. You'll love their pasture-raised products. And it sure feels good knowing where your food comes from.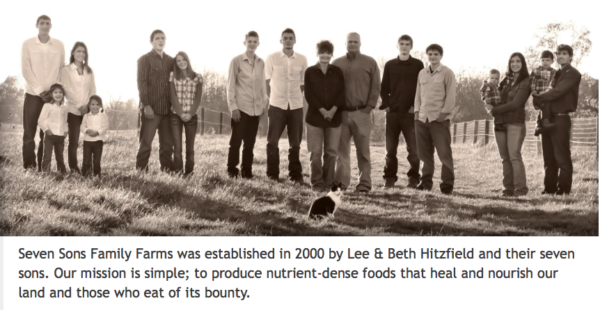 Ginger:
There are more than 40 pharmacological actions ginger is capable of like antibacterial, antiviral, anti-inflammatory, and anti-oxidant. Let's not ignore the promising anti-cancer benefits research now reveals. Needless to say, this is a superfood and you're doing yourself a favor by using it more at home.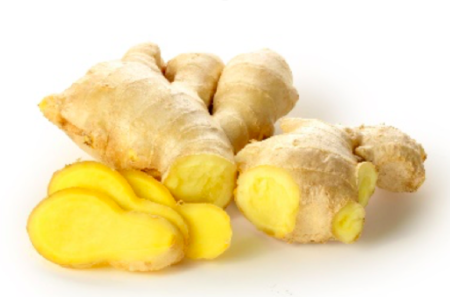 Find ginger at the supermarket in the produce section, usually by the jalapeno peppers. To use fresh ginger, simply cut off the skin (not even necessary to be honest) with a Vie Belles knife, peeler, or even a spoon, and grate the ginger with the smallest holes on a cheese grater, or even better a microplane! If you don't have either of those tools, just cut a 1 inch piece of ginger into tiny pieces to help your blender do the job. I suggested 1 teaspoon of grated ginger here, but personally I would use a tablespoon. Ginger Tip: Fresh ginger will keep in the fridge for a few weeks, and it freezes perfectly. I freeze it almost all the time, just minced and frozen in ice cube trays with a little water or oil. Once frozen, place in a freezer bag.
Napa Cabbage:
High in Vitamin K, and bone-building Calcium, this lettuce-like cabbage is rich in antioxidants and very protective for our he
alth. Purchase a head of napa cabbage in the produce department (they'll even cut a head in half for you if you don't want the whole thing). Cook up the leftover napa cabbage like you would any other cabbage, or use it in a soup or stir fry. If you can't find this at your grocery store then you can make wraps with romaine lettuce or bibb/butter lettuce.
---
It's Time to Cook…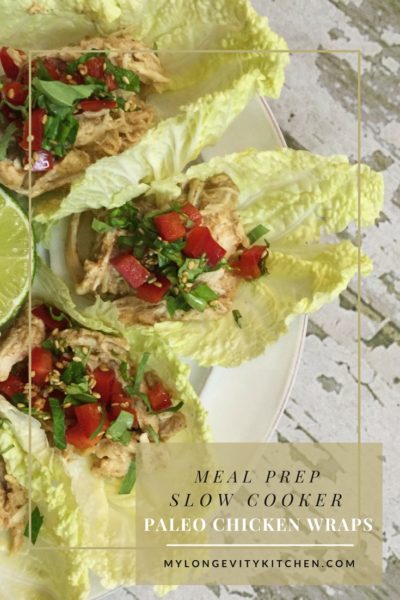 Slow-cooking chicken:
Slow cookers typically do best with meat on the bone, and tougher cuts. But if the timing is right, you can do boneless skinless chicken breast too! Here you'll learn how to use big Thai flavors, and blend together a rich cooking sauce. Throw it all in the crockpot, and chop up your salsa ingredients while it cooks. In the end you'll have low-carb cabbage wraps with shredded Thai chicken in under 30 minutes of hands-on time. The leftovers here are awesome!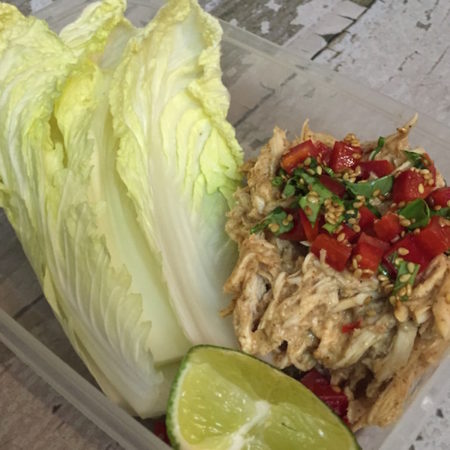 Packing this for lunch:
If preparing this to-go, keep your cabbage cups beside your chicken and red pepper salad so you can build them when it's time to eat, just like you see in my photo above.
---
Disclaimer:
Marisa Moon of My Longevity Kitchen is a participant in the Amazon Services LLC Associates Program, an affiliate advertising program designed to provide a means for sites to earn advertising fees by advertising and linking to awesome products they recommend from amazon.com
Slow Cooker Thai Chicken with Red Pepper Salsa
2017-05-01 12:29:05
Serves 4
This dairy free and Paleo slow cooker recipe uses almond butter, lime, ginger, and coconut amigos to make the perfect asian chicken wraps for the week..in the slow cooker! Use napa cabbage to make vitamin-rich crunchy wraps.
Ingredients
CHICKEN BREAST, boneless/skinless 1.25-1.5 lbs, or Bone-in & skinless 1.5-1.75 lbs
1 Cup Low-Sodium Organic CHICKEN BROTH
1 Tablespoon FRESH LIME JUICE
2 Tablespoons of ALMOND BUTTER (any nut butter works)
1 teaspoon, or more, of grated FRESH GINGER
2 GARLIC CLOVES
2 Tablespoons of COCONUT AMINOS (or 1 Tbsp Light Tamari Soy Sauce + 2 Tbsp Coconut Sugar)
1 Tablespoon of organic TOMATO PASTE
1 Tablespoon of UNREFINED COCONUT OIL
Optional: 1 Tablespoon of CRUSHED RED PEPPER FLAKES
Red Pepper Salsa
1 organic RED BELL PEPPER, diced very small
1 Tablespoon of TOASTED SESAME SEEDS
1.5 Tablespoons organic EXTRA VIRGIN OLIVE OIL (or Avocado oil)
2 teaspoons RICE VINEGAR (find in the Asian food aisle)
1/8 teaspoon FINE SEA SALT
8 BASIL LEAVES, finely chopped
8 MINT LEAVES, finely chopped
3-4 LIME WEDGES
12 NAPA CABBAGE LEAVES
Instructions
Decide the cooking time that is convenient for you: Slow-cook on HIGH for 3 hours OR on LOW for 6 hours (any longer and the chicken will get too dry)
Place CHICKEN BREASTS in the slow cooker
In a blender, blend together everything from the CHICKEN STOCK down to the optional CRUSHED RED PEPPER FLAKES. Pour this sauce over the CHICKEN.
Set the slow cooker on HIGH for 3 hours OR LOW for 6 hours.
Now, prepare your RED PEPPER SALSA by mixing the diced RED PEPPERS with the SESAME SEEDS, OLIVE OIL, RICE VINEGAR, BASIL AND MINT; in a small bowl and refrigerate until it's time to plate your dish.
When the chicken is done cooking, move the chicken breasts to a plate or cutting board. Using two forks, shred the meat. Put the shredded chicken back in the sauce to mix well and taste to see if it needs any salt (if it tastes like it's missing something, it needs more salt)
To serve, separate 4 or more CABBAGE leaves, and cut off the bottom half where most of the stem is. Use the top half to make cabbage cups. Add a scoop of chicken, top with your red pepper salad, and squeeze on some fresh lime.
My Longevity Kitchen https://mylongevitykitchen.com/