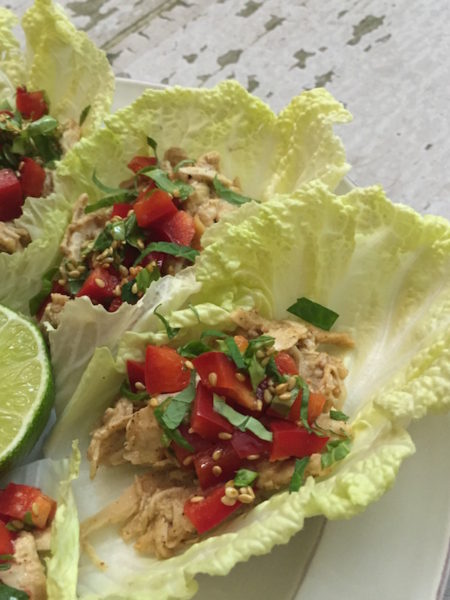 My Inspiration…
This slow cooker paleo chicken recipe uses almond butter, lime, ginger, and coconut aminos to make the perfect asian chicken wraps for the week.
Slow cookers can be such a lifesaver in the kitchen. I'm always telling people about how much I love using them.
I'm always on the lookout for new slow cooker recipes that I can try and test on my friends. Maybe I should take that offer of using CocuSocial, (https://cocusocial.com/) to find cooking classes in my area as they may be able to give me some fresh inspiration, as well as learning new and different tips to help me improve my cooking. It's definitely worth a thought. I always love trying something new, and when it concerns my slow cooker, I'm all for it.
But many of you have horror stories about your slow cooker dinners ending up in the trash. Maybe it's because a lot of recipes use cookie cutter cooking times-such as 8 hours on low and 6 hours on high-but not all recipes turn out well with that amount of time.
Another reason your results don't turn out? Let's face it…there are about 500 different slow cookers on the market, and they range in shape, size, and efficiency. So it's quite possible that our slow cookers are so different that you get a different result. Hang in there.
It's worth figuring out what the problem is because these machines are AWESOME! You can slow cook while you sleep, while you work, and use it to keep food warm at a party (that's how my family rocks out all the Thanksgiving sides on a buffet table).
And slow cooking is how food wants to be cooked. Allowing the food to slowly be broken down, flavors to be mingling over time, and juices releasing in a natural flow yields a dish that always hits home.
Did you know that slow cooking is the most nutritious way to cook? Sites like Compt-Aam know that nutritious doesn't have to mean that you miss out on any of the flavor – and there are always ways to add a little extra, should you feel you need it. With slow cooking, the foods are cooked at a lower temperature which preserves many of the nutrients. This is also a more traditional method Continue reading →