No time to read the full post? Listen here to the audio version: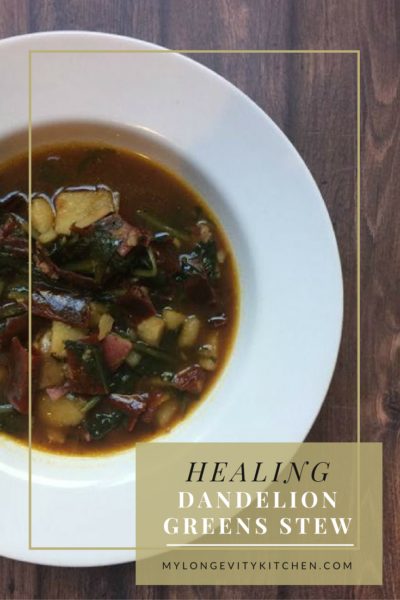 My Inspiration…
One of the first, most-interesting soups I ever made was a braised dandelion greens recipe by Top Chef Master, Chris Cosentino. It was bitter, and spicy, and full of dimension. It's not for everyone, but that's okay. This recipe is for anyone who appreciates bitter greens like rapini (broccoli rabe), frisse, escarole, and of course dandelion greens. The way Chris paired the greens with ancho chilies, lemon, olive oil, and true parmigiano reggiano just spoke to me. This is totally my language.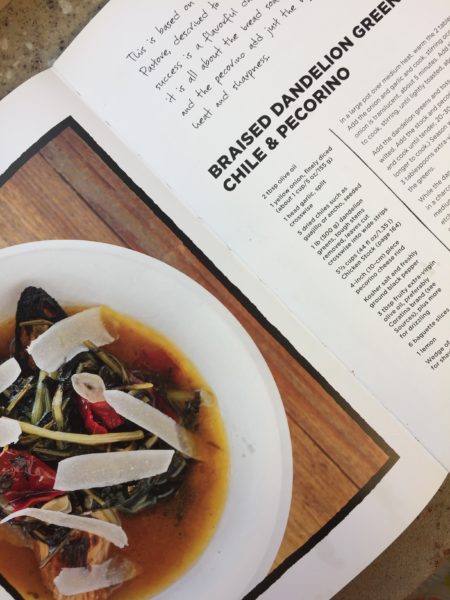 I've made it time and time again, swaying a bit from the recipe to make it compliant with my food and lifestyle choices. For instance, he suggests a crusty piece of bread on the bottom of your bowl so it will soak up all of the dandelion broth…and I know that sounds heavenly. But, I don't really eat bread any more. I eat it on special occasions if it's gluten free, or if I'm in the mood for a burger with a real bun—but otherwise I avoid it. So, I started adding potatoes to the soup instead. Bitter greens and potatoes are a popular combo with Italians, so that one was a no-brainer. I also changed the chicken broth base to a bone broth base, and the combination of bone broth with dandelion greens is what makes this recipe especially healing. Interested in Chris Cosentino's cookbook? It's called Beginnings – My Way To Start A Meal
. It's a beautiful book full of vegetables, cured meats, and artisanal cheeses; and it's organized by seasons to highlight year-round ingredients for appetizers and small bites.
---
Longevity Tips…

Bone Broth:
If you are a vegetarian then don't worry, this soup can be made with water, or vegetable stock, and still turn out great! But for everyone else, let's talk about bone broth. That's possibly the main reason I called this recipe "Healing Dandelion Stew"; it's the bone broth that makes it especially healing. The name "Bone Broth" either gets you excited, or Continue reading →