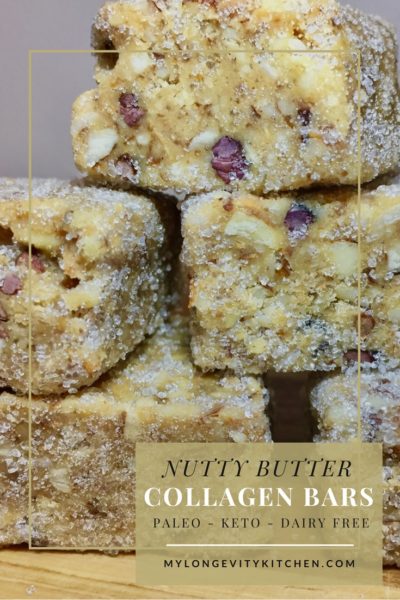 Yesterday was pretty fun…  
I shot my first Facebook Live cooking video alongside Chicago Biohacking Expert Anthony Diclementi.  Anthony, a long time acquaintance and Hi-Vibe Ambassador, invited me into his kitchen for an informal live video about how to make my Nutty Butter Collagen Bars, all while we laughed and discussed why eating real food is so awesome.  Watch the video to see Anthony's reaction to my peanut butter substitution, and to see how you can make these low-carb, fudgy bars in 15 minutes.  If you like the video below, please share on Facebook so we know you want more like this!   
Scroll on down for the recipe.  
Mark Mosche, Chicago Biohacker and Bulletproof Developer, describes it perfectly…
"Biohacking is a crazy-sounding name for something not crazy at all-the desire to be the absolute best version of ourselves…The main thing that separates a biohacker from the rest of the self-improvement world is a systems-thinking approach to our own biology.  As humans, we are complex systems. What goes into us affects what comes out of us, and I'm not just talking about our poop.  Our behaviors, our health, and our performance in all areas of life are outputs.  If we want better outputs-to have more energy and focus, to be free of disease, to have a better memory, to perform optimally in business and athletics-then let's tweak the things we put into our body and mind to stack the deck in our favor.  Biohackers use the tools to measure these inputs and outputs, and to experimentally test the effect of different tweaks. The Keto diet is just one example of biohacking that has become very popular in recent years, and if you're interested in the details you can find a guide here to get started. After all, biohacking is about getting your hands dirty and learning from experience.  "
---
It's Time To Cook…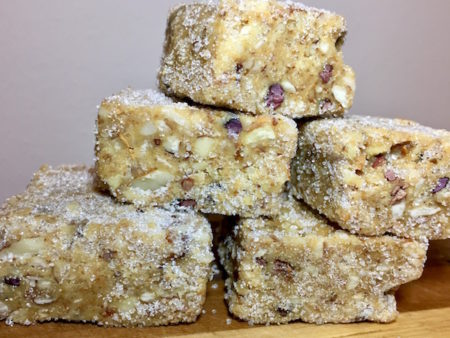 Ingredients:
1 Cup Unsalted Nuts – see notes
1.5 Cups Fancy Grade Coconut Flakes (or 1 Cup Unsweetened Shredded Coconut)
Generous 1/2 teaspoon of ground Cinnamon
8 Tablespoons of Unsalted Grass-fed Butter
1/2 Cup Unsweetened Nut Butter – see notes
1.5 teaspoons Vanilla Extract
1/8 teaspoon Fine Sea Salt
1 Serving of Unflavored Collagen Hydrolysate/Peptides Powder
3 Tablespoons Cacao Nibs (optional)
3 Tablespoons Birch Xylitol or Erythritol to sweeten (using 1/2-full packet of stevia is a good alternative).
Directions
MAKING THE BARS
1. Add your Nuts & Coconut flakes to a dry skillet and sprinkle with the Cinnamon. Keep the heat off for now.
2. Using a small sauce pan or pot, add the Butter, Nut butter, Vanilla, and Fine Sea Salt. Turn heat to LOW and stir with a spatula to melt everything together.
3. Once the butters are melted & combined, stir in the Collagen Powder, Cacao Nibs, and Xylitol/Erythritol. Turn the heat off.
4. Turn the nut pan on to medium heat. Toast the nuts carefully, watching that you don't burn the coconut by tossing the nuts around about every 30 seconds. Takes about 3 minutes.
5. Once the nuts are fragrant and browning, chop them in a food processor (or using a sealed plastic bag you can take out your frustrations by smashing them with a heavy pan). I like them more coarse than almond meal, but less chunky than chopped nuts at the store.
6. Add the chopped nuts to the butter mixture, stirring to combine (add your cinnamon if you haven't already).
7. Line a food storage container (width of 7 inches or less) with parchment or wax paper along the bottom so you can release them easily once they cool. Pour the mixture into the container, spreading evenly, cover and refrigerate.
8. After at least 2-3 hours, once it's solid throughout, remove the container and patiently wait 10 minutes to let it slightly thaw so you can slice it to perfection. Then slide a knife around the edges to loosen your masterpiece, and remove the entire mixture in one piece. Slice into squares. Keep refrigerated for the best eating experience.
Soaking nuts in advance will make these bars even more nutritious, and easier on the digestive system. See the following directions for this technique.
SOAKING NUTS (OPTIONAL) TRIED TO KEEP IT SIMPLE FOR KETOSIS & BUSY SCHEDULES:
1. For maximum nutrition, soak nuts for 3-8 hours in purified water, loosely covered, at room temperature
2. Drain and rinse nuts thoroughly. Blend them in a food processor until they are coarsely ground and slightly chunky. Add 2 Tablespoons of Coconut Flour and whirl in the food processor one more time. Set this mixture aside to add into Step 6 as listed above.
Continue now to step 1 and toast the coconut flakes.
---
NOTES:
Nuts – Use any type of nuts you'd like, raw and unsalted. Or, for maximum health benefits, seek out brands like "Living Intentions" who are activating (soaking & dehydrating) the nuts for you.   See above steps for soaking your own nuts.
Nut Butter- Any nut butter will do for this recipe. I recommend buying sprouted nut butters like the ones by Destiny or Manna Organics (unsweetened only). Or look for Barney Butter Almond Butter that's made with blanched almonds.
---
Interested in the stuff we mention in the video?  Here are the links:
UPDATE: Please note, after further researching the stone pan mentioned in this video, I have confirmed that the pan is still made with a teflon chemical referred to as PTFE. Because of this, I no longer recommend the Stone Earth Frying pan. When searching for healthy non-stick alternatives, search for PTFE & PFOA free pans, and ideally ones that can handle oven temps over 400 F. Here are the ceramic non-stick pans I recommend and use myself:
 GreenPan Valencia Hard-Anodized Ceramic

Green Pan Lima Non-Stick Ceramic 12″ Covered Frypan
 

Flamekiss Nano Ceramic Coated Frypan by Amore 
 
---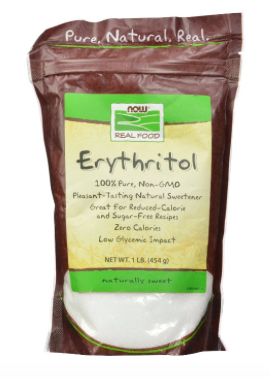 NOW Foods Eryt
hritol Natural Sweetener, 1 lb
---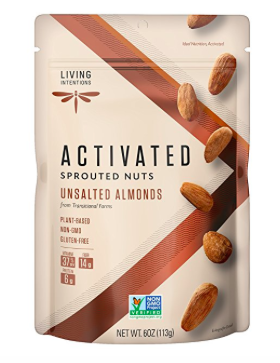 Living Intentions Sprouted Nuts, Almonds Unsalted, 6oz, 6 Ounce
---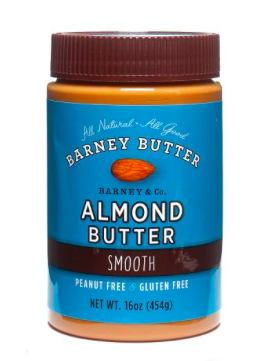 Barney Butter Smooth Almond Butter
Marisa Moon of My Longevity Kitchen is a participant in the Amazon Services LLC Associates Program, an affiliate advertising program designed to provide a means for sites to earn advertising fees by advertising and linking to awesome products they recommend from amazon.com
---
SaveSave