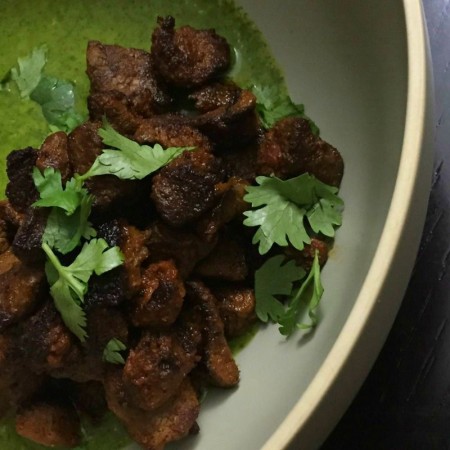 Isn't it awesome when you find a tasty recipe that only requires a few ingredients?
Check your spice cabinet for ground cumin and smoked paprika…
Not in there? Go and get some!
These two spices are at the very top of my list. Cumin gives you that warm taco meat flavor, and smoked paprika gives you a smokey red pepper kick!
That's basically all you need for this recipe. And the star ingredient?
My favorite meat: Lamb.
Besides the superior flavor, do you know what's so great about lamb? Lamb is not as mass produced as beef, chicken, and pork, so you can be sure the lamb you are buying is almost always living a good life…which means it's healthier for us to eat. When you see New Zealand on the lamb label, that tells you the lamb was eating grass just like nature intended. This means that the meat is higher in omega 3's and lower in the inflammatory omega 6's (compared to animals fed grain).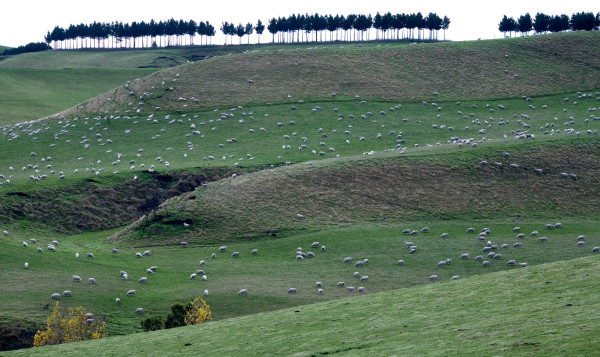 What do we do with this super easy, 3 ingredient spice rub????
You can use this spice rub on lamb chops, kabobs, and mix it into lamb burgers. But the easiest preparation (which I choose to make time and time again) is to get some diced, trimmed, leg of lamb, marinate for 30+ minutes in this spice rub, and give it a quick sear in a hot pan.
Longevity Tip: Choose your oil, or what I like to call "cooking fat" wisely. Oils that have lower smoke points (temperatures at which they break down) will release dangerous stressors in the body…so it's important to choose specific cooking fats for high heat cooking! I give you many options in the recipe notes, but just grab a bottle of avocado oil if you want something pour-able and easy to use. Want to understand more about fats and their smoke points? Read this
If you want to make lamb kebabs, ask the butcher for a boneless leg of lamb, trimmed and cubed into 1.5 inch pieces. They'll do it for you, so just ask! The trimming is important because the fat won't have time to cook when you are using a high heat method like the grill. Coat the meat in the spice rub about 30 minutes before hitting the grill, and let it marinate at room temperature. When skewering the meat, it is best to do the meat on its own, with space between each piece of meat. I know it looks pretty mixed with vegetables (like Jamie Oliver's version below), but make it worth your money and cook it properly. Space between the meat allows each piece to cook more evenly, and there aren't any veggies getting in the way either. On a hot grill, you cook the meat for just a few minutes max, per side. If you have big pieces of meat, you'll have to find a cooler spot on the grill so the spices don't burn before it's cooked. Pull the lamb off when it's medium rare! It will continue to cook when it cools, and you want it to be tender.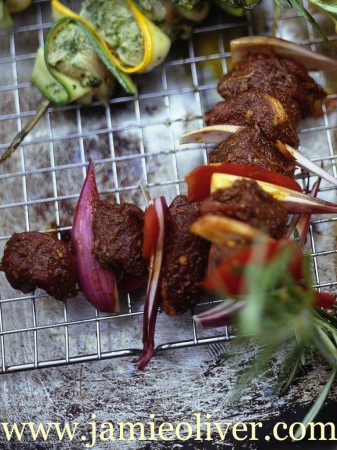 The inspiration for my spiced lamb came from Jamie Olivers Marinated Lamb Kebabs Recipe. I made the kebabs for a party, and people were goin' crazy for them! I mean, we went through 10 lbs of New Zealand Lamb in no time! 3 people asked me for the lamb recipe, so I knew I had to post it on my blog one day. I originally altered Jamie Oliver's recipe by simplifying the ingredient list…using only cumin, smoked paprika, and salt. It was a huge hit, and I never turned back.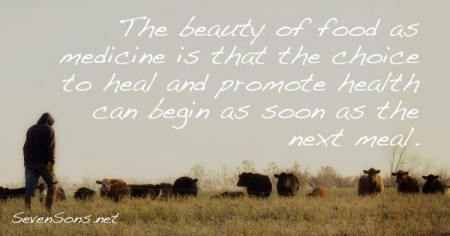 I made it the past few times with a locally sourced lamb stew/kebab meat from Seven Sons Farms. Seven Sons Farms distributes and deliveries responsibly raised meat from farms all over the midwest! Check it out if you live in Illinois, Michigan, Indiana, Wisconsin, or Kentucky.
Buying from a local farm can mean a little more fat trimming at home. You can see here the before and after photo of lamb I trimmed.
You want this lamb to be tender, and succulent, and worth every penny. That's why we trim. The fatty white tissue will be too chewy in this quick-cooking method. I saved all the fat and scraps for a tomato sauce (just sear the fat, add garlic, tomatoes, olive oil, salt, and cook partially covered for an hour, stirring occasionally). These small cubes of lean meat I ended up with are perfect for a quick sear in the pan.
Are you ready to make the quick and easy version of my 3 Ingredient Spice-Crusted Lamb?
This lamb, or any meat for that matter, goes perfectly with chimichurri sauce. The vinegar and bold flavors are perfect for this spicy smoky masterpiece. I LOVE it with a cilantro based chimichurri because the cilantro is strong enough to stand up to the lamb. Try and make your own chimichurri with my recipe template here. You can make this fresh Argentinian sauce in so many different ways, and I show you how in this build-your-own Chimichurri recipe!
Tag me in your lamb photos on facebook or instagram @mylongevitykitchen #mylongevitykitchen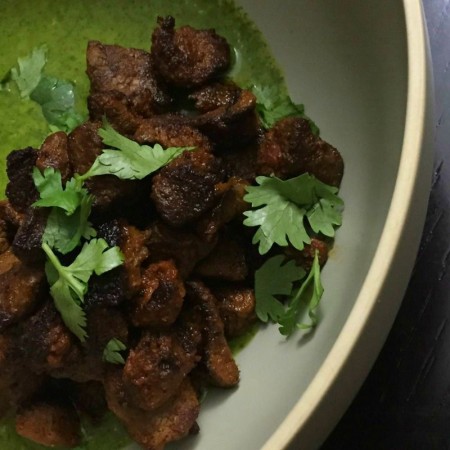 3 Ingredient Spice-Crusted Lamb
2015-09-29 11:57:30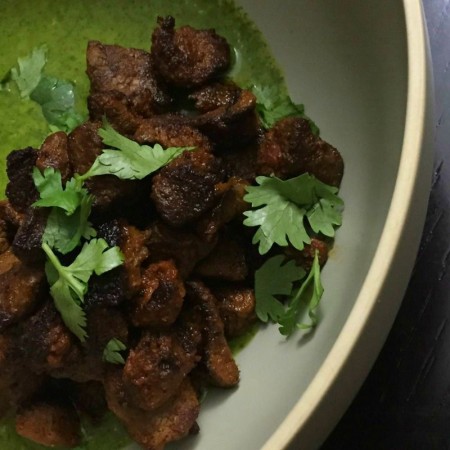 Serves 2
An unexpected combination of cumin and smoked paprika makes this 3 ingredient lamb so easy and satisfying. People will be asking for your recipe! I show you how to make it quickly in a hot pan so you can have a lamb dinner on the table in 5 minutes!
Ingredients
1 Tbsp SMOKED PAPRIKA
½ tsp GROUND CUMIN
½ tsp Finely GROUND SEA SALT
½ tsp ground BLACK PEPPER
2 tsp Avocado Oil (see substitutions in notes)
1 lb leg of LAMB, 1 inch cubes trimmed of most visible fat (see notes for variations)
Instructions
Check to be sure your lamb is cut into about 1 inch pieces, and trimmed of most the white fat and tissue.
Mix all of the ingredients together EXCEPT the lamb, and make a spice paste to coat the lamb.
Add the lamb and rub the marinade all over. Let it sit, partially covered for 30 minutes to 1 hour at room temperature, or longer in the fridge (bring back to room temp before cooking).
Heat a heavy pan over high heat, or heavy duty foil on a hot grill. Add a little avocado oil or other high heat cooking fat to the pan a minute before you are ready to drop in the lamb.
Add the marinated lamb to the hot pan letting it sear on one side for 1 minute.
Flip the lamb pieces using tongs or a spatula and leave for 1 more minute to sear another side of the meat.
Pull out a smaller piece and check for doneness. I usually transfer all of the meat to a plate after only 2 minutes of cooking! It will continue to cook as it rests.
Sprinkle with a little salt when done cooking, serve with potatoes or rice, and chimichurri sauce if desired (see previous post or links above in this article)
Notes
Lamb Cuts: You can use this spice rub on lamb chops, kebabs, and mix it into lamb burgers. See this blog post article for kebab instructions.
Cooking Fats for High Heat: Ghee, macadamia nut oil, palm oil, palm shortening, beef tallow
My Longevity Kitchen https://mylongevitykitchen.com/