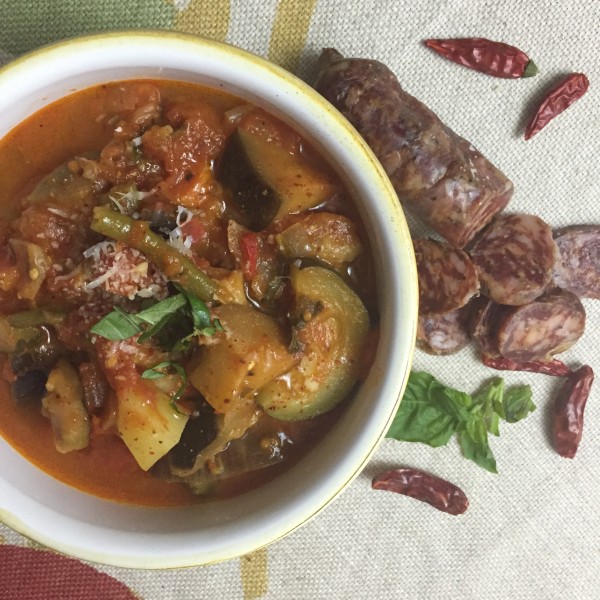 My Inspiration…
Sure enough, whenever the leaves are thinking about falling, I'm thinking about Ciambotta—pronounced Chom-BOAT-ah. This Italian vegetable stew is a southern Italian tradition. It gives you the opportunity to celebrate the bounty of your garden (or farm stand, CSA, and local produce section), kiss the Summer goodbye, and say hello to a 50 degree day. I'm okay with that.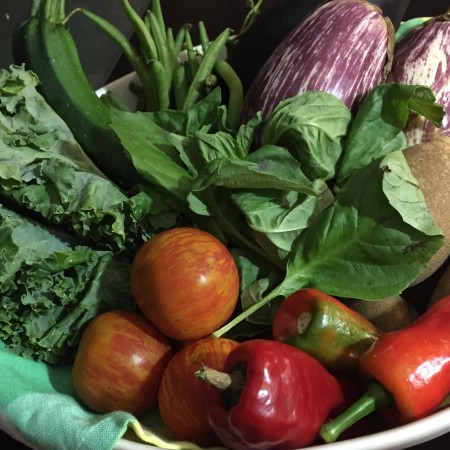 I love Ciambotta for so many reasons! Most importantly, I grew up eating it—anything in a red sauce, with parmigiano reggiano and crushed red pepper was my favorite. But ciambotta is awesome because it's cheap, versatile, and reminiscent of a bowl of pasta. (I should mention it freezes fantastically too. BONUS!)
---
Longevity Tips…
Are you buying organic produce yet? I understand it's tough to get used to paying more, so check out this list of vegetables that are highest in pesticides (we are talking over 50 different pesticides detected on some of these veggies; not to mention that kale and hot peppers often contain chemicals that are so dangerous they should be illegal). If you buy these organic, you'll be cutting out a majority of the pesticides/herbicides your family is exposed to.
This list is only for vegetables. Read here for the full list including fruits (pleeeeease buy your apples organic)
Watch this 2 minute video to see what chemicals are in your body before switching to organic. You'll be shocked!
I've said this before and I'll say it again:
If you aren't already buying organic tomatoes, you should start right now. Standard tomatoes are sprayed with some of the highest levels of herbicides/pesticides being used. These chemicals are "classified as 'bad actors' by the Pesticide Action Network (PAN). A "bad actor" is a chemical that is toxic, promotes cancer in lab tests and animal studies, interferes with reproduction, or contaminates the environment."
Thanks to Jo Robinson's book "Eating on the Wild Side: The Missing Link to Optimal Health", I am able to provide you with this important information.
And skip the traditional cans because they are lined with all sorts of chemicals that tomatoes leach from (even if they are BPA free). Go for glass jars or cartons of organic tomato products…stock up when they are on sale around $3 and save big! I heart organic tomatoes.
---
It's Time To Cook…
Okay so you're ready to make your Ciambotta, and you notice the ingredients in my recipe aren't in precise amounts. Welcome to the world of Italian cooking! And honestly people, this is my style. Recipes don't have to be so rigid to be great!
I want you to use whatever you like, and whatever you have access to. The base of a great ciambotta is usually tomatoes, eggplant, zucchini, and potatoes; but there are SO MANY GREAT WAYS to make it! My family often puts green beans or peas in this stew. Don't like eggplant? I say try it in this dish, and you might be surprised…but you can always leave it out. Even the amount of liquid is not precise. All you need to worry about is that there is just enough liquid to cover those veggies.
Let me know how this works for you! I always make it on the stove top, but I know you can do it in the slow cooker. Give it a shot, and tag me #MyLongevityKitchen on Instagram and Facebook @MyLongevityKitchen, or comment right here!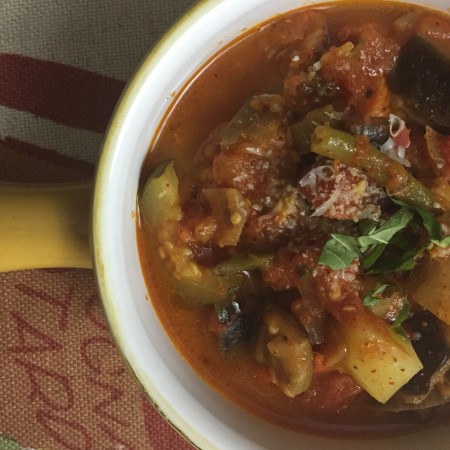 Ciambotta: Italian Vegetable Stew
2015-10-09 13:10:24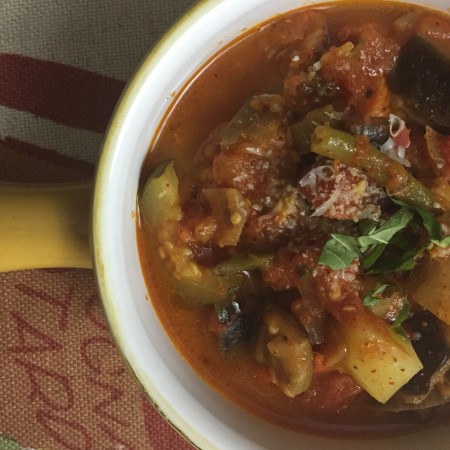 Serves 3
Pronounced Chom-BOAT-ah, this Italian vegetable stew is a southern Italian tradition. It is a celebration of the garden's bounty slowly cooked in a rich tomato sauce.
Ingredients
½ ONION, chopped
Optional: 1 organic CELERY, 1 CARROT, finely chopped
Optional: 1 teaspoon CRUSHED PEPPER FLAKES
3 cloves of GARLIC, peeled and smashed
Approx. 1 lb EGGPLANT and/or organic ZUCCHINI, diced
Approx. 1 lb organic Potatoes, peeled and diced
Optional: ½ lb GREEN BEANS and/or organic SWEET PEPPERS chopped
¼ Cup organic Extra Virgin OLIVE OIL
24 oz Jarred organic TOMATOES (I prefer jarred Whole Peeled Tomatoes, but any variety canned—and quartered fresh tomatoes—works too)
18 oz BONE BROTH, STOCK, or WATER (just enough to cover the veggies)
1 BAY LEAF
1 Tbsp minced FRESH HERBS (parsley, basil, oregano, thyme)
1 tsp dried OREGANO (skip if using fresh oregano)
SALT & PEPPER
Optional: ¼ Cup GRATED Pecorino Romano or Parmigiano Reggiano cheese (More nutritious compared to "parmesan")
Stovetop Method
Using a large pot, heat 2 tablespoons of olive oil over medium heat.
Add the onions, carrots, and celery (if using), and a heavy pinch of salt. Stir and saute for 3 minutes.
Add the garlic and crushed chili pepper flakes, stir and cook for 1 minute.
Add all of your vegetables, tomatoes, and ¼ cup olive oil. Stir and add enough broth or water to just cover the vegetables.
Turn the heat to high, stir in the herbs, bay leaf, 2 teaspoons of salt, and 1 teaspoon of pepper.
Once it starts to boil, reduce the heat to low and cover.
Cook on low heat for 1 hour, stirring around every 15 minutes to prevent burning on the bottom.
After 1 hour, and all the veggies are super soft, you may leave off the cover to reduce the amount of liquid remaining. Simmer for 10-15 minutes until you reach the desired thickness.
Stir in the grated cheese (if using), and taste for salt. If it tastes like something is missing, add more salt.
Slow Cooker Method
Add all of the ingredients—except the grated cheese¬—to the slow cooker.
Cook on high for 3-4 hours, or on low for 8 hours, until the veggies are super soft.
If it's too soupy, continue cooking uncovered on high or transfer to the stove uncovered and the liquid will evaporate as it simmers.
Stir in the grated cheese and taste for salt. Something missing? Add salt.
Serve with fresh herbs, grated cheese, and crushed pepper if desired.
Notes
Ingredients marked organic are specifically high in pesticides when grown conventionally
Variations: Add organic leafy greens, and ANY cooked meat to change it up.
This is hearty enough to serve as a main course and can be stretched by serving over rice or Non-GMO polenta
My Longevity Kitchen https://mylongevitykitchen.com/