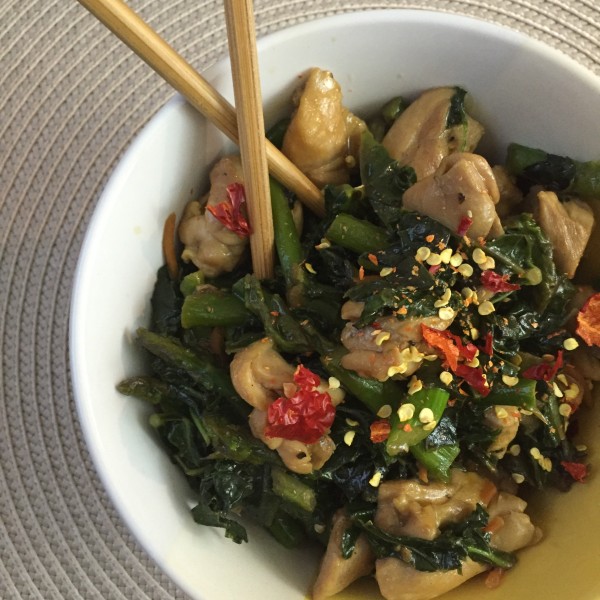 My Inspiration…
While thumbing around my Pinterest feed, I came across "The BEST Stir Fry Sauce" by the blogger behind Tastes Lovely.  I liked the idea that this post was just for the sauce.  The sauce is key.  To me, stir fry is like frittata…there are hardly any rules, and ANYTHING can go in it.  So why not just make a recipe for the stir fry sauce and change up the dish with different veggies and protein.  Great idea Natalie! 
I had a crazy week, and I knew a pre-made sauce would save my butt when dinner had to get on the table in 15 minutes (and it did)!  Eric loved it and said it tastes like something from a Chinese takeout.  Maybe I should have called this Chinese Takeout Stir Fry Sauce?  Nahhhh. I recently had some healthy takeout food boulder and that inspired me to create this dish. Takeouts don't have to be unhealthy and neither does home cooking! We're trying to lose some weight so this recipe also seemed like a good idea for us.
P.S. I'm back into Pinterest and I am loving it!  I had too many sites to focus on for a while there so I sort of left Pinterest behind in the dust.  I realized it was time for me to get back in the pinning game once I started sharing boards with friends.  It's fun to share boards!  If you haven't started Pinterest yet, you totally should!  Find me there at www.pinterest.com/LongevityKitch (ughhh pinterest why wouldn't you let me choose a handle with more characters?) and let's share ideas! 
---
Longevity Tips…
I'd love to tell you about the ingredients I chose for my version of this Make-Ahead Stir Fry Sauce!  
Tamari:

Raise your hand if you've heard of Tamari.  Tamari is basically soy sauce, but more legit.  Modern Soy Sauce has WHEAT as the main ingredient- often preceding even Soy on the ingredient list.  That's a bunch of hooey, and we want our soy sauce made from soy and salt…NOT WHEAT.  I should begin to clarify something however; I usually tell people to stay away from Soy.  There's a lot to be said on the subject, but just hear this:  Soy is a profitable crop for America to grow and utilize, so they want us to believe it's healthy and they want to put it in everything (same goes for wheat and corn).  The main problem is that soy mimics estrogen in the body and really throws our hormonal system out of whack; putting us at risk for thyroid problems, cancer, infertility, and all kinds of stuff that sucks.  In countries like Japan & China, they use soy as a condiment and they would never consider it their main source of protein.  50% of the soy they eat is fermented, and they have a drastically different diet than us Americans, and their diet is much richer in micronutrients.  There are a few forms of fermented soy that you may be familiar with: Soy Sauce, Tempeh, & Miso, among others.  I recommend including these foods in your diet on occasion and skipping all other forms of unfermented soy.  If you have children, an autoimmune disease, or are trying to conceive, keep yourself and your children as far away from soy as you can.  To learn more about the many dangers of unfermented soy, read this.  
Coconut Aminos is a great alternative for people avoiding all types of soy.  It's like soy sauce, but sweeter.  You can find coconut aminos at most health food supermarkets in the Asian section, or you can order all of the products I recommend online through Thrive Market.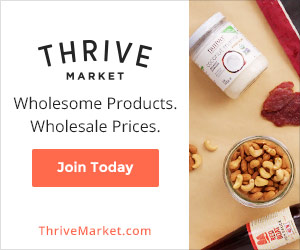 The good news is, you can buy Tamari Lite at the grocery stores now!  Get your hands on some Tamari Lite or Tamari Low-Sodium. The Non-GMO certification (or Organic) is great because we know the soy plant wasn't sprayed with the same deadly chemicals they use on GMO soy. Get it? Got it? Good.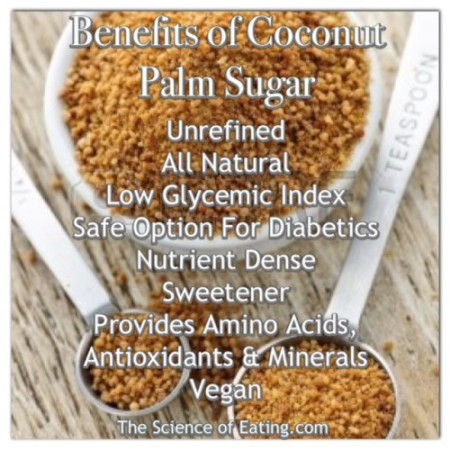 Coconut Sugar / AKA Coconut Palm Sugar
I'm totally into this stuff.  I don't use it a lot, because it's still sugar.  But it's minimally processed (only 2 steps!), and delivers less of a spike in our blood sugar than nearly any other sugar available.  It tastes like brown sugar!  No, it doesn't taste like coconut.  You can find bags of this in the baking aisle or online, so go get some!
Potato Starch / Arrowroot / Tapioca Starch / Cassava Flour
Starch helps to thicken your sauce like the gravy at a chinese restaurant!  These are smart swaps for corn starch, if you ask me.  Corn starch is always GMO unless you buy organic or Non-GMO verified (this is a problem because of the dangerous chemicals they spray on the GMO plants, and the toxins the GMO corn produces to keep away insects.)  Corn Starch is also insanely processed, and did you know corn is not even a digestible grain?  We literally can not digest it.  I know it's sad; you like corn on the cob.  Who doesn't?  Anyways, I'm not here to tell you you can't eat corn on the cob…I'm here to tell you what you should be using in place of corn starch (for the love of heart health and all things healthy: throw away your corn oil). 
Potato Starch, Arrowroot, Tapioca Starch/Flour, and Cassava flour are all awesome alternatives to corn starch.  These starches are perfect for thickening soups and gravies, and you can even make a batter with them and fry up some goodies (arrowroot is the most pricey, and the most particular of them all.  So I only recommend arrowroot if you have other recipes to try that call for it).  My family made fried Calamari and all sorts of fried fish using potato starch on Christmas Eve…it turned out great!  They did this just because they love me and know I can't have wheat flour.  Happy.  There are a million recipes out in the Paleo world now using these starches, so go ahead and do a search for ideas!  They store well, and potato starch is inexpensive!  
---
It's Time to Cook…
This recipe is so eeeeasy!! 
Just throw it all in the blender, and save it for a rainy (raining with responsibility) day.  This could be one of those weeks when you buy the conveniently pre-cut veggies from the supermarket…like I did when I made this stir fry.  $6 for a package of pre-cut asparagus?  That's not a deal at all…but on occasion it's okay because then we still eat veggies even though I'm busy, and I don't have to worry about the prep and mess! 
What are you going to put in your stir fry?  I made one with shrimp, broccoli, and bell peppers; and the winning dish was chicken thighs with asparagus & kale.  Do your body a flavor and buy some organic meat, free from antibiotic & hormone use, and from a farm you can trust.  Want to buy directly from a farm but don't know how?  Check out the place I get our meat from: www.sevensons.net  They deliver to pickup locations all over the midwest!  Wouldn't you feel saintly if you knew the farms that raised your meat?  I know I would, and I do!
Okay, what are you waiting for?  Make this 5 minute sauce so it's ready when you are!  Comment below or tag me in your creations #mylongevitykitchen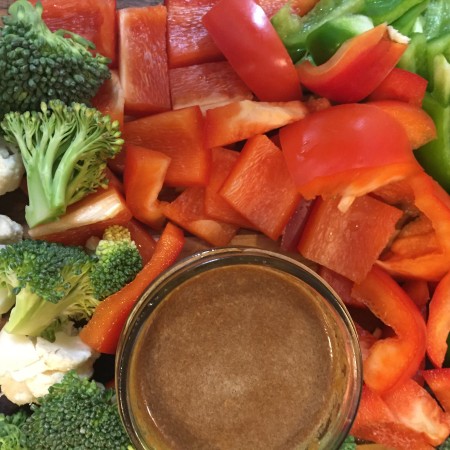 Make-Ahead Stir Fry Sauce
2016-01-31 23:00:27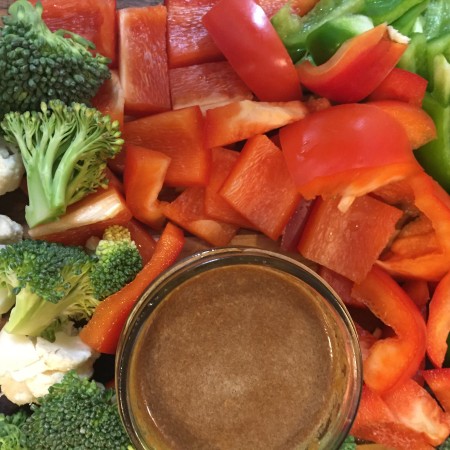 Serves 4
Make this 5 minute sauce so it's ready when you need dinner on the table in no time! Using whatever protein and veggies you have on hand, you can create a chinese takeout dinner with endless possibilities.
Ingredients
2 inch piece fresh GINGER, peeled & minced (about 1 tablespoon), See Notes
2 GARLIC Cloves, chopped (help a blender out), See Notes
1/4 Cup of BROTH (water works in a pinch)
1/4 Cup Non-GMO TAMARI Lite Soy Sauce (soy-free sub is Coconut Aminos)
1 Tablespoon COCONUT SUGAR (ommit for lower carb)
1 teaspoon APPLE CIDER VINEGAR or Rice Vinegar
1 teaspoon TOASTED SESAME OIL
1 Tablespoon POTATO STARCH, See Notes for subs
Instructions
Add Everything to your blender and blend on high.
Save in a jar in the fridge for up to a week
Ready to cook? Follow these steps
If using meat/seafood, cut your meat into bite sized pieces, and heat 3 tablespoons of high heat cooking fat like avocado oil, ghee, refined coconut oil, palm oil (or even lard/tallow/bacon fat from healthy animals).
Cook your meat/seafood until 75% done, and season with salt and pepper while it cooks.
Remove the meat and set aside.
Add your veggies to the pan along with a splash of water, and half of the stir-fry sauce. Season with salt and pepper and cover the pan.
Steam-cook your covered veggies for about 3 minutes over medium heat.
Remove the cover, stir, and add back your meat/seafood. Pour the rest of your stir fry sauce onto the meat/seafood, and stir to combine everything.
Turn the heat to high and cook for 5 more minutes. Stir occasionally and watch the sauce thicken (thank you starch).
Notes
Ground Ginger can be a good substitute. Use 1/4 teaspoon
Garlic Powder can be a good substitute. Use 1 teaspoon.
Potato Starch can be swapped for Tapioca Starch, Cassava Flour, & Arrowroot Starch in this recipe. You can ommit the starch completely and still have a delicious dish that is even lower in carbs.
Adapted from Tastes Lovely
My Longevity Kitchen https://mylongevitykitchen.com/
Save
Save