The butternut is more than just a squash. It is a long-lasting, flu-fighting, time-saving winter veggie. Dice up this golden beauty and you have a super simple side dish just when you thought you were out of veggies.
I'm talking about that day when you have used up all your greens, all your potatoes, and all your produce. You look over at your pantry and think, "there's gotta be some canned artichokes in here or somethin!" Nope. Just when you're about to give up and skip the veggies, you see something out the corner of your eye. It's been decorating your kitchen with this fall harvest ornamental flair, and you think to yourself, "YES! BUTTERNUT! I am so glad you're here!" I absolutely love butternut squash, but don't even tell me for a second you can't relate. Sometimes I forget it is in my kitchen, and then boom! Two weeks later that baby is still standing tall and ready to be put to use (right when I need it the most). If this hasn't happened to you then you need to just buy one, and set it aside, and wait. It'll happen.
We shouldn't leave winter squash on the sidelines, however, because these starchy, hearty vegetables have some powerful immune-boosting properties that we should take advantage of.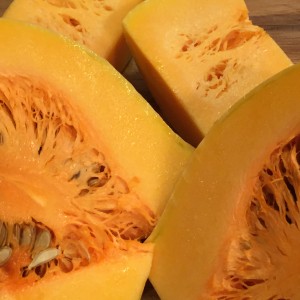 Sweet winter squash doesn't need much attention from the cook. But, considering it's much less sugary than its tuberous friend the sweet potato, it makes sense to spruce it up with some sweet and spicy flavors. I only used a few ingredients here, but many of them may be new to you.
First, I will mention the spices. Have you heard of Five-Spice Chinese Powder? I first purchased a bottle of this spice blend years ago when making one of Eric's favorite foods from his homeland in Hawaii. Shoyu chicken. It is a dynamite dish of stewed chicken thighs in a sweet and salty umami bath. (If you're feeling adventurous or have longed for a good shoyu chicken recipe, I recommend this one from Reggies Kau Kau Time blog . I am definitely going to make a longevity version of this dish for the blog one day. It's on the list!) Chinese Five-Spice is typically a blend of Cinnamon, Clove, Peppercorn, Fennel, and Star Anise. I recently bought a version containing ginger, but traditionally it is made without. A little goes a long way, and you'd be surprised how useful it is in the winter! I seasoned the squash here with five-spice powder, and some warming ground cumin. If you're not familiar with cumin, I'd have to disagree with you (huh?). It's the name "cumin" that people are unfamiliar with, not the taste. Cumin is the most important flavor in every taco seasoning packet ever!..so I'm sure you will recognize the flavor quite well. I LOVE IT.
Lastly, I'd like to introduce you to Coconut Aminos. It is a sweeter alternative to soy sauce that is prized in the paleo world, and new to the culinary scene. It's basically salty coconut sap, but without the coconut flavor you might expect. One bottle will last you a while (unless you go coconut aminos crazy like some of us do at first) so I suggest you go for it! Tossing the butternut squash in this sauce really helps bring all the flavors together. Are you nervous about trying all of these new flavors??? I sure hope not. If you like Thai Food, or Indian Food, Moroccan Food, or trying new things, then you'll love this dish!
PS I admit I ate it cold several times right out of the fridge. mmmm.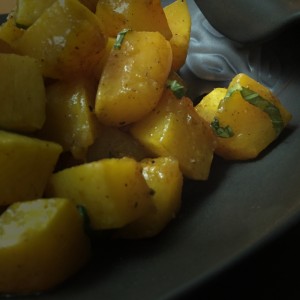 Six-Spice Butternut Squash
2015-01-15 02:32:37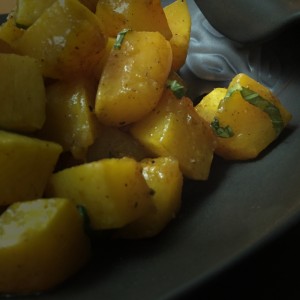 Butternut squash coated in a warming blend of spices including cumin, cinnamon, clove, star anise, ginger, and fennel.
Ingredients
1 small Butternut Squash, under 2 lbs
2 Tbsp Ghee, Palm Oil, Coconut Oil, or Lard, melted
2 tsp Coconut Aminos (or 1 tsp fish sauce + 1 tsp coconut sugar)
2 tsp Coconut sugar
½ tsp Cumin
½ tsp Chinese 5 spice
¼ tsp Sea Salt
2 fresh Basil leaves
Instructions
Preheat the oven to 400
Cut off both ends of the squash by root and stem, and peel the skin off with a vegetable peeler.
Cut the squash in half crosswise. Then, cut both halves lengthwise and use a spoon to scoop out the seeds.
Cut the squash into 1 inch cubes.
In a mixing bowl, combine the melted fat with the coconut aminos, coconut sugar, and the rest of the spices except for the basil.
Add the squash to the mixing bowl, and toss well to coat
Roast for 25 minutes, turning the pieces after 15 minutes.
Thinly slice the basil by stacking the two leaves, rolling tightly like a cigar, and slicing across to create ribbons. Carefully mix the basil ribbons into the hot squash.
Notes
Enjoy this sqush on the side of a juicy steak or any tender braised meats.
The spices compliment many asian and latin flavors.
Try it with my Lime Marinated Grass-fed Skirt Steak.
We also ate the leftovers for breakfast in a one-pan scramble of eggs, kale, and the six-spice squash.
Tag me in your squash photos! @mylongevitykitchen #mylongevitykitchen
My Longevity Kitchen https://mylongevitykitchen.com/