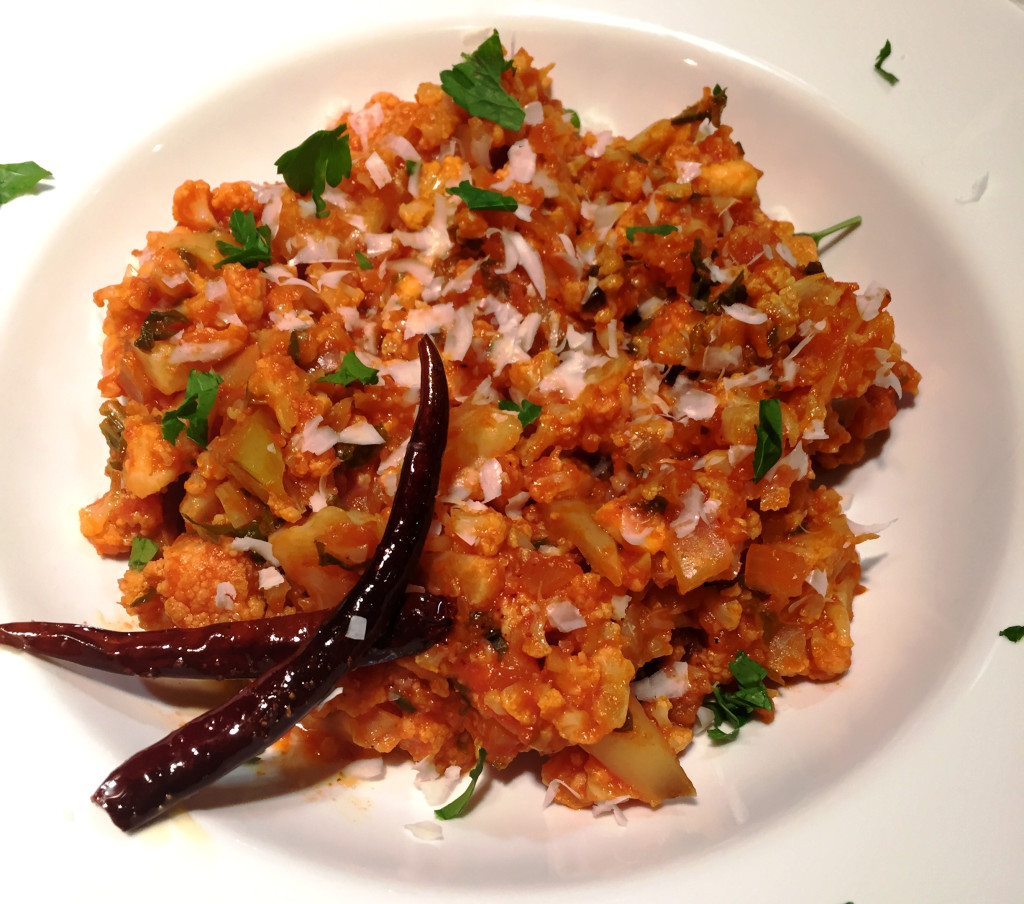 I almost never make the same thing twice…but this dish happens pretty often in our house.
There was a time when I had so much cauliflower I didn't know what to do with it all! This happened after a trip to Smit's Farm, owned and sustainably operated by a family friend and their loving family. My Nonno showed us the VIP treatment, taking us into the fields to harvest the most beautiful assortment of vegetables. It was incredible to see how much variety they grew. And the cauliflower were massive!
Inspired by the versatility of cauliflower, along with a recipe from David Rocco's book "Made in Italy" called "The Best Cauliflower Ever" or "Cavolfiori Stufati Al Pomodoro", I slowly stewed my way to this dish. I realized I can use any tomato product, such as puree, whole peeled, or even jarred salsa, to make it. And it's always AMAZING. Don't forget about the greens and stems that hug the head of cauliflower. If they are still in good shape then slice them up and cook them too! I also was somewhat surprised that this dish is best at room temperature, like David Rocco suggests. The flavors stand out much more when it is at room temp, and it's even more rich and comforting. This type of dish, that can be eaten room temp, is perfect for company or a busy day in the kitchen.
If you haven't seen David Rocco's Dolce Vita, do yourself a favor and DVR a few of those episodes. It's the perfect show to help you get away, explore the beautiful country of Italy, and understand the culture's appreciation for quality ingredients, and simple cooking.
If you are still reading now, I know you love Cauliflower more than a handsome Italian man…and I thank you. In return, I shall give you this amazing Cauliflower recipe.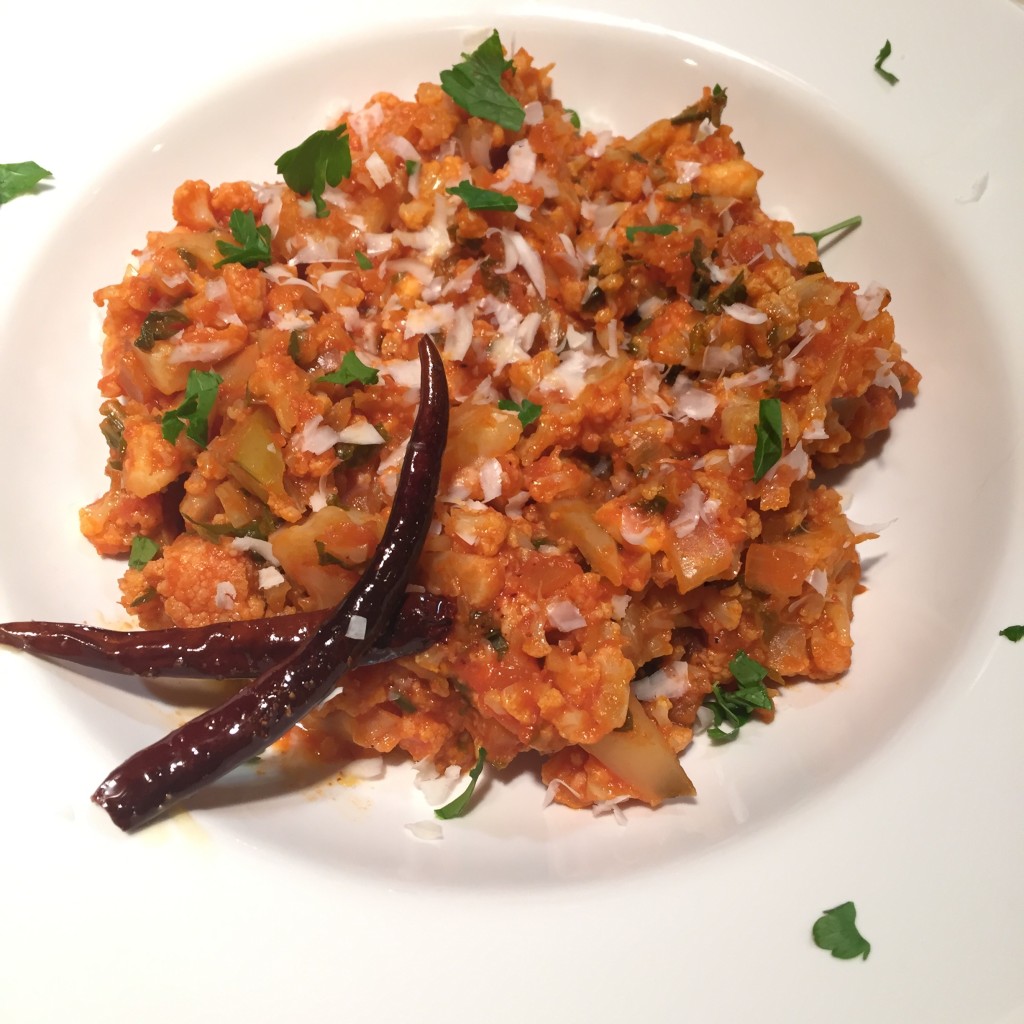 Italian Stewed Cauliflower
2015-01-11 23:01:30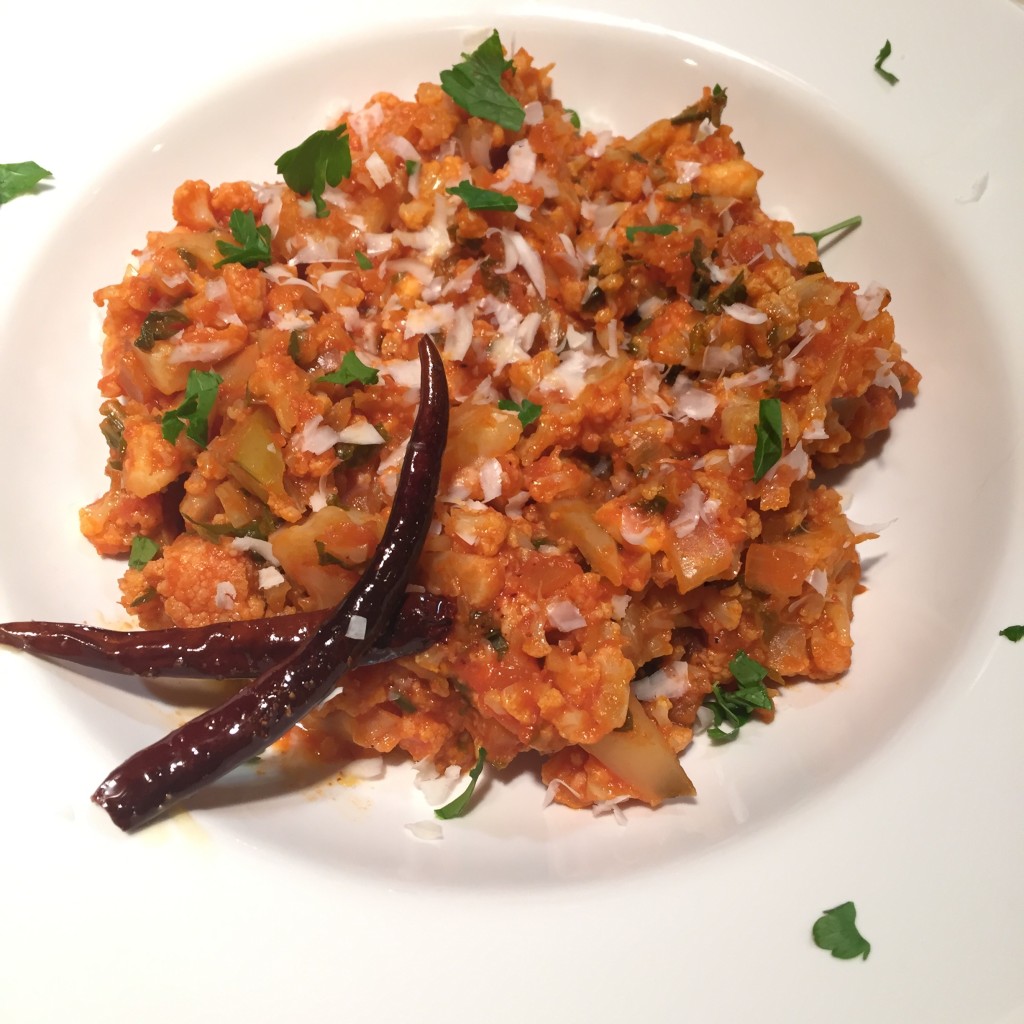 This warming and tender adaptation for simple white cauliflower is the perfect way to fulfill your pasta dreams, and please the whole family. The versatility of this recipe makes it even more incredible. Try it with jarred salsa, leftover sauce, or even pizza sauce. This dish is surprisingly best at room temperature. Trust me on that. I suggest doubling the recipe if you serve it as a main course. You may also freeze the finished dish for future use.
Ingredients
1 large head cauliflower, core removed, stems and greens saved
1 onion or 2 shallots, finely diced (can be omitted if you use a flavorful sauce or salsa instead of tomato puree)
2 cloves of garlic, minced (optional)
16 ounces Tomato Puree, Sauce, Crushed, or Diced, or Salsa
1/2 cup cubed hard cheese and rinds like parmesan, grana padano, or pecorino romano
1/4 cup extra virgin olive oil
1/2 cup fresh parsley chopped
1/2 cup water
1/2 cup grated cheese
Instructions
Cut the cauliflower florets and stems into small bite sized pieces. If the greens (including firm ribs) around the head are in good shape, slice them thinly with the cauliflower.
In a large pot, heat the olive oil on medium heat, and saute your onions until they are getting soft.
If you haven't already, cube the hard cheese into small bite size chunks.
Add the garlic and parsley to the onions, and stir to start releasing the fragrance of the garlic.
Add the cauliflower and stems, some black pepper, and a generous three-finger pinch of sea salt. Stir to combine.
Now add your water, and tomato puree or choice of tomato sauce.
Mix everything together, cover the pot, and turn the heat on medium low.
Set a timer for 40 minutes and check back every so often to give it a stir.
After 40 minutes, stir and smash the cauliflower, and taste for salt. You will likely need more salt if you used an unseasoned tomato base.
Remove the pot from the heat, and stir in the cubed cheese, and grated cheese. Mix it well, and let it sit for 15 minutes before digging in.
Enjoy at room temperature with grated cheese, and crushed or dried chilli flakes
Notes
This will serve 6 people as a side dish, and 3 people as a main dish.
This dish will be great with the addition of fennel, or even some leftover meat like italian sausage or beef. Simply add in with the cauliflower.
Tag me in your stewed cauliflower pics #mylongevitykitchen @mylongevitykitchen
My Longevity Kitchen https://mylongevitykitchen.com/