I've been diggin' the sweet potato collection lately at my supermarket.
Have you branched out and tried the different color sweet potatoes? Most of them are more closely related to a yam…which is a good thing! They have lower sugar content and are less hybridized.
Hybridize: Crossbreeding; (of an animal or plant) breed with an individual of another species or variety.
Most of our favorite fruits and veggies have been hybridized to yield a sweeter, larger fruit. I like to shop for more heirloom and wild varieties because I know they pack the most nutrients, and have the least sugar.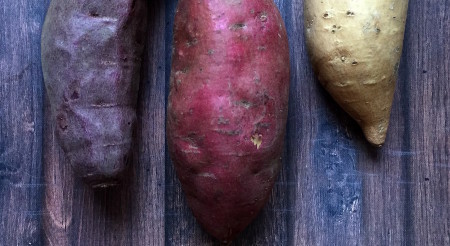 These 3 sweet-potato-yammy-thingies are all quite different. My favorite is probably the Hannah (blonde on the far right), or Japanese (redhead in the center). Hannah is probably the least sweet of them all, and truly tastes like a cross between a yukon and a yam. The Japanese sweet potato in the center is sort of squash like, but still with a mild sweet potato sweetness.
The purple is my favorite to look at, and I know there are tons of antioxidants in there because of the color…but this one isn't the best for roasting because it's more dry and "thick" compared to the rest. When you roast it, it's almost like eating a spoon full of peanut butter…it's a mouthful and you need a glass of water! I like to roast because it's convenient and I can save the roasted veggies for a bunch of different recipes later this week (I often use my sweet potatoes to pan fry with eggs). If you like the purple sweet potatoes, try roasting them around 350 degrees and wrapping them in foil. This will help keep the moisture in! Otherwise cooking them in a soup is a good idea.
Welp…
I'm gonna keep this post short because it's not really a recipe. I just figured I'd give you a peek into my kitchen when I'm prepping or cooking whatever is left in the fridge!
I preheated the oven at 400 fahrenheit, and I loaded a pan up with these potatoes (and some other goodies I'll get to in a sec). DON'T POKE HOLES IN YOUR SWEET POTATOES. Sweet potatoes won't explode while baking, so there's no need to poke holes. This keeps the moisture and sweetness inside to steam and caramelize.
While you're at it, you might as well throw some roasted garlic and jalapeño packs on that pan too. Not too long after this photo I snuck an Italian eggplant on the tray. Just poke holes in the eggplant with a fork (yes for eggplant, no for sweet potatoes), and stick it right on the pan.
After cutting open the eggplant, you can scoop out most of the seeds, drizzle with olive oil and season with plenty of salt, pepper and parsley. You can eat it just like that or blend it all up if you'd like to make a dip! Add some oil and lemon and voila!
Let's get ready to load 'em taters up!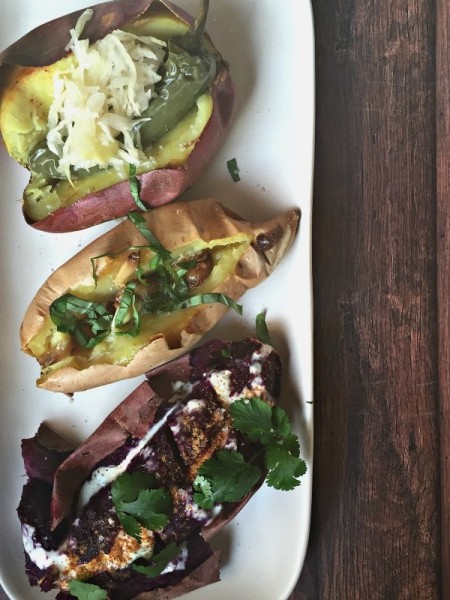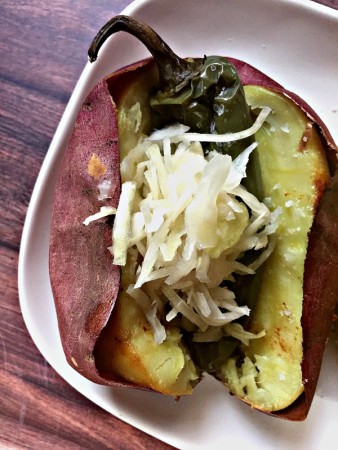 My favorite toppings were Sauerkraut & Roasted Jalapeño! This was a slammin' combo that I will do again and again. I used Bubbie's Sauerkraut that is made without the classic caraway seeds; this makes for a more versatile sauerkraut that you can put on anything. I change it up and sometimes get the "Fair 'N By" Sauerkraut by The Brinery. They both are only made with cabbage, sea salt, and time. If you haven't noticed by now, I'm always pushing fermented foods like sauerkraut. We NEED this beneficial bacteria, AKA probiotics, in our daily diet; and variety is the way to go! Try new sauerkraut brands and flavors whenever you get the chance. I'm starting to see Farmhouse Culture Brand krauts at all the health food stores. These are sold in BAG! My favorite flavor is the horseradish & leek.
Sauerkraut FAQs
Q: Can't I just take probiotic supplements?
A: I take these too, but the probiotics in fermented foods are better. Fermented foods are readily recognized, and utilized in our body. Probiotic supplements are relatively new, there's not enough understanding on them yet, and they don't necessarily reach the digestive tract where we need them to take effect. That's why fermented foods are even better. These have been used in the human diet for most of our human existence; and they play a huge role in our digestive ability, our intestinal integrity, our brain function, and especially our immune systems. I take probiotic supplements periodically to introduce different bacteria strains which are not present in fermented foods.
Q: Where do I find sauerkraut?
A: You can find sauerkraut and fermented foods in a cooler at your grocery store, typically near the vegan meat & cheese substitutes. Only purchase the refrigerated sauerkraut (& kimchi) because then you know you're getting food with live-active cultures (cultures are the beneficial bacteria/probiotics)
Q: What if I buy it and I hate it?
A: The best part about fermented foods is that we have an innate desire to eat these foods. So even if you don't like it at first, just try about a tablespoon each day, and you'll truly grow to love it! If you just hate the certain flavor you purchased (krauts come in all different flavors now!), then you can throw it into a cooked dish were it loses its probiotic benefits, but it turns into a tender, flavorful veggie which contains more readily available vitamins and minerals (compared to using the same ingredient in unfermented form). Ever have brats/sausage cooked with warm sauerkraut? Much more mild than the refrigerated kind. Don't forget the juice…sauerkraut juice is where a lot of the benefits are at. You can drink a shot of it or add a shot to your salads to get the same probiotic benefits as eating it.
Q: How long will it last in my fridge?
A: Fermented foods have a long refrigerated life. Depending how much you open the jar, if you use clean utensils to dip in the jar, and how full the jar is, it can last around 6 months or so after opening! Every jar has an expiration date on it as well. If the sauerkraut smells bad when you open it, or has too much pressure building up inside, you can just cook with it so it doesn't go to waste. This is typical for Koreans to do with kimchi (spicy fermented cabbage), as well as Polish and German Sauerkrauts; they add it to their traditional soups and stews to kill off the sour-expired taste, and utilize the healthy vegetables.
Q: What other ways can I use my kraut?
A: Try your sauerkraut in salads, on deviled eggs, in wraps or sandwiches, and even in your guacamole! Use the liquid in place of vinegar in your dressings. My family loves a side of sauerkraut or kimchi with our breakfast, but it's on our plate as a side dish with almost every single meal.
Have you embraced fermented foods yet? Tell me about it below!