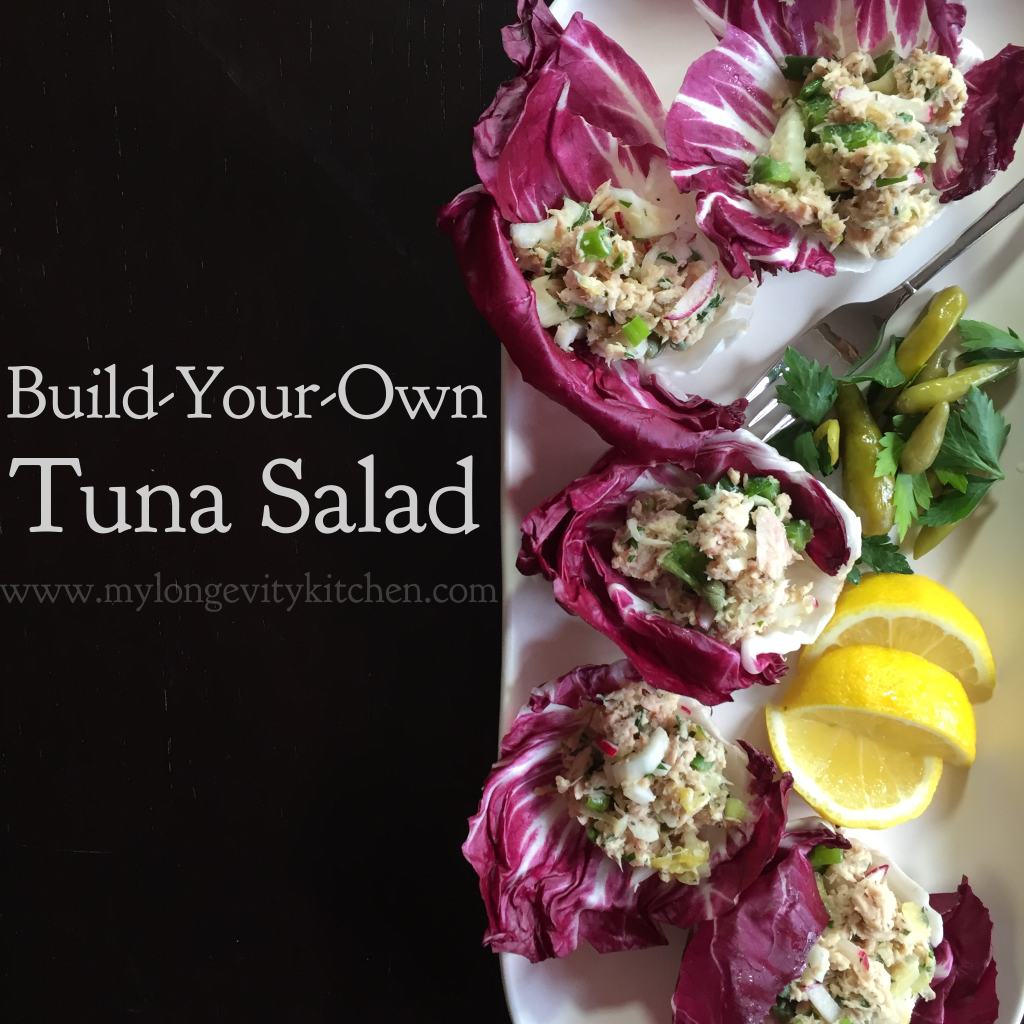 If you don't have canned fish in your pantry then I might assume
one of two things…
Either you don't know anything tasty to make with them, or you think canned fish is gross. This recipe can change your mind in both of those scenarios, so let's…
BUILD YOUR OWN TUNA SALAD!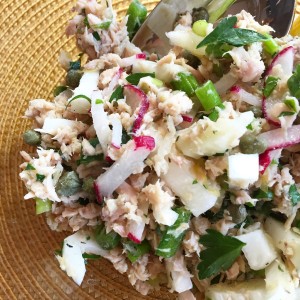 Most people think of tuna salad like potato salad and cole slaw…it's always creamy. That is not true! Many ethnicities use these foods to make bright and refreshing salads just like the tuna salad I am introducing here. I decided to make this recipe "build-your-own" because there are so many different ways you can go! It's such an awesome recipe to make when you are out of ingredients, and even out of time! I bring this over to friend's houses for a quick party appetizer, and people always love it. Grab whatever you've got, and use my recipe template to build your own delicious salad. ………………………………….
We should really take a minute and talk about how many different canned tunas there are.
Too many! Well most of them are pretty crappy. They are overcooked, packaged with extra liquid, and even artificial flavors. Some tuna fish are much larger than other tuna and will have a higher mercury content. For many of these reasons above, I have switched over to Wild Planet Tuna. It's cooked once, packed in it's own juices (no water or oil), and they fish for smaller fish! Their white anchovies and sardines are the best I have ever had too. My pantry is always stocked with those.
BUT WAIT …
There's a brand new tuna in town! And it sounds like it is far superior than anything available to consumers before. It is by a brand called SAFE CATCH. 100% of the Safe Catch tuna is tested for mercury levels (with their finest tuna being 10 times less mercury than the FDA limit). The fish is packed raw, and they have tested 70 cooking methods to find the perfect result for the final product. WOW! Safe Catch found me on Instagram and is sending me some free sample. I am pumped! I will probably order right now anyways…sales just started online. So go ahead and get the safest tuna around! It's between $3.50 and $4.50 a can.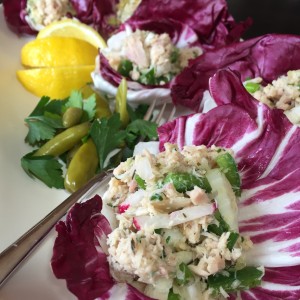 I think it's time to build your own tuna salad!
Try this salad recipe with crab, and any other canned/cooked fish you like! Let me know how it goes! Tag me on IG @mylongevitykitchen #mylongevitykitchen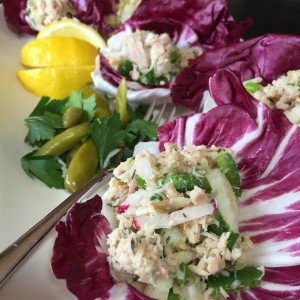 Build-Your-Own Tuna Salad
2015-04-13 16:31:24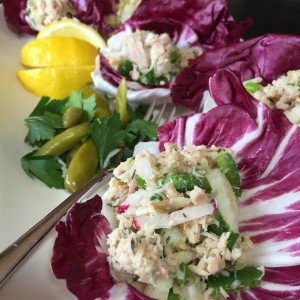 Using bright herbs, briney goodies, and crunchy veggies, we are really setting a higher standard for canned tuna salads here. This easy tuna salad template will have you rockin' out a refreshing tuna salad with whatever you have in your fridge and pantry! Perfect for lunch or appetizers. See recipe notes for tons of ideas!
Base Ingredients
5 oz Tuna preferably packed in its own juices, or drained
1.5 Tbsp Extra Virgin Olive Oil
1 Clove Garlic, minced (or 1/2 tsp garlic powder)
1/4 Cup Sliced Scallions/Green Onions (or 1 Tbsp minced red onion or shallots)
Sea Salt & Black Pepper
Customizable Ingredients
CHOOSE YOUR ACID. 1-2 Tablespoons of acid like Lemon, Red Wine Vinegar, White Wine Vinegar, White Balsamic, Distilled Vinegar, Sherry Vinegar (almost any acid will work for this!)
CHOOSE YOUR PICKLED BRINY GOODIES. 1-2 Tbsp Capers, or chop any of the following and use up to a 1/4 cup: Olives, Pickles, Pickled Peppers, Caper Berries.
CHOOSE YOUR SAUERKRAUT. 1-2 Tbsp of your favorite Kraut! I suggest any basic Cabbage, Raddish, or Beet Sauerkraut; Not Kimchi
CHOOSE YOUR FRESH VEGGIES. 1/2 Cup Fresh Crunchy Veggies, diced small or sliced thinly. Try Celery, Raddish, Fennel, Carrot, Jalapeno, Cabbage, etc…, in any combination)
CHOOSE YOUR HERBS. 1 Tbsp minced Fresh Herbs (parlsey, cilantro, oregano, basil) + 1/8 tsp dried herbs (thyme, oregano are best)
Instructions
In a mixing bowl, mix together the Olive Oil, Garlic, Onions, and 1 Tbsp of your chosen acid, with a pinch of salt and pepper.
Now, add the rest of the ingredients and mix well.
Taste for extra acid, if you prefer.
Eat right away, or refrigerate and enjoy in the next 3 days.
See Notes for many different serving ideas.
Notes
Serves 2 for lunch, 6 for an appetizer.
Serving ideas
Put a heaping scoop on top of mixed greens, and you instantly have an entrée salad.
Wrap it in romaine lettuce leaves and eat it like a taco.
This tuna salad is fantastic alongside a scoop of cottage cheese or an avocado.
Serve small scoops inside raddichio or "cabbage bowls" with extra lemon wedges on the side.
Serve like a dip. Add a tablespoon more of oil, and a dash of acid (or a spoonful of mayo) to help thin out the salad, and serve it in a bowl surrounded by sticks of celery, endive spears, or anything you'd like to dip! Keep a small spoon or fork in the salad to make it easier on your guests. (I often make this to bring to parties at the last minute, when I need to throw something together)
My Longevity Kitchen https://mylongevitykitchen.com/