"InstaRecipe" Alert! (click here for info)

This kale salad is MARINATED.
The biggest mistake people make with kale salad is when they don't massage or marinate the kale! Don't make this mistake. No one actually enjoys chewing on this fibrous raw veggie without a little help.
Looking for a way to get fermented foods into your diet??? This is a great way to do it. Mixing it into a salad is a sure-fire sneak-attack that will have you singing "Sauerkraut" in no time. Try it!
"Ewww Marisa. Why fermented foods?"
Think probiotics people! Think about your digestive health. Your gut is considered your second brain. Check out this quick description about why fermented foods are important and how you can eat more of them!
And onto the delicious, easy, make-ahead, keep-em beggin' marinated kale salad recipe!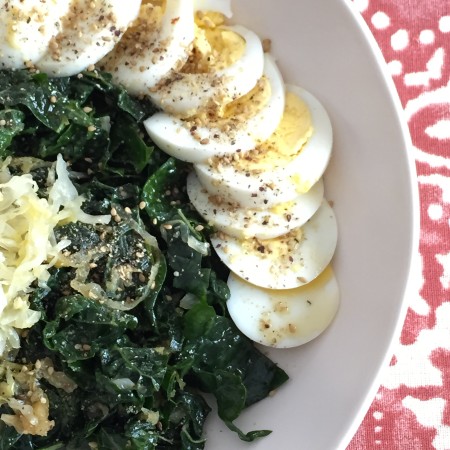 Asian Marinated Kale & Kraut Salad
2015-06-10 23:06:10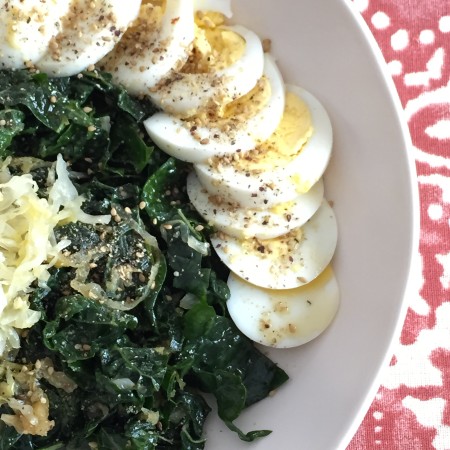 Serves 2
This makes a great make-ahead lunch or side dish! Give raw kale the love it deserves and massage and marinate it before you're ready to chow down. The combination of sesame oil, tangy sauerkraut, hard boiled egg, and sesame seeds works perfectly here.
Dressing/Marinade
1 Garlic Clove, Minced
2 Tablespoons Rice Vinegar (you can experiment with white wine vinegar or lime)
1 teaspoon Sesame Oil
2 teaspoons Oil of your choice (I used homemade chili olive oil, but extra virgin olive oil, or avocado oil are also good choices)
1 Tablespoon Coconut Sugar (Coconut Aminos would be great here too)
½ Tablespoon Water
½ teaspoon each of fine sea salt and black pepper
½ teaspoon mustard powder (optional; and chinese mustard, or wasabi are great subs)
Salad
1 Head Curly Kale, stemmed and ripped into 2-3 inch pieces (these vary in size, so start with less and add more once you see how much marinade is left)
2-4 Tbsp Sauerkraut or Tsukemono (Tsukemono is the same as traditional sauerkraut but without the caraway. Your ingredients should say cabbage and sea salt only; feel free to experiment with other flavors)
2 Hard Boiled Eggs, sliced or diced
*Sesame Seeds, or Furikake, or Seaweed Gomasio (see notes for more info)
Instructions
Mix the dressing ingredients in a bowl big enough for the kale
Add the kale and toss to combine
Now, take your hands and get in there, squeezing the kale to break down the fibrous texture and work in the dressing
Cover the bowl with plastic wrap and leave at room temp for 2-3 hours, or refrigerate overnight. This salad gets better with time...even days!
When you are ready to eat the salad, mix in 1-2 Tablespoons of Sauerkraut per serving.
Then add the egg. Go ahead and mix it in for a wonderfully messy combination of textures (I kept it pretty for the photos)
Drizzle your salad with a little extra olive oil or chili oil, and sprinkle generously with sesame seeds, or Furikake, or Seaweed Gomasio. Crushed Chili Flakes will be great too!
Notes
*Search Furikake or Seaweed Gomasio on Amazon.com, and buy one if you haven't tried it! It's awesome with eggs, rice, soup, and anything Japanese or Korean. The healthier versions are only a few ingredients: Nori flakes, Sesame Seeds, and Sea Salt.
This serves 2 people for lunch, but will serve many more as a side dish.
Tag me in your photos on IG @mylongevitykitchen and #mylongevitykitchen
Want to be part of my recipe testing team? Leave a comment on the blog to let me know!
My Longevity Kitchen https://mylongevitykitchen.com/