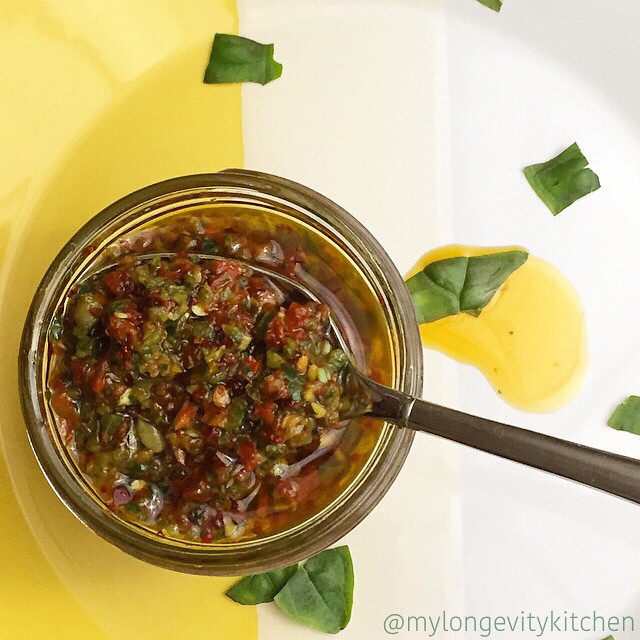 I think hot sauces, and salsas are my favorite foods ever. And doesn't just the word "Pesto" make your mouth water?
Why don't you imagine now a pesto that is hitting you from every corner! It's hot, it's smoky, it's tangy, it's fragrant, and it's salty. Oh, and the garlic. Oh yes. We've got organic, sun-dried tomatoes, bunches of peppery fragrant Italian basil, only the best Extra Virgin Olive Oil you can find, fresh spicy jalapeno peppers, smoky aleppo pepper flakes, and salty briny capers. Mmmmm hmmmm…
Don't you even think for a minute that this pesto has to be paired with something bland because of its mighty super-tasty powers! This pesto is to Italian food like sriracha is to Thai food. Don't believe me? Make it yourself and slap it on everything you eat. Ahh-mazing.
Before you dive in and start this recipe, I must introduce you to my favorite sun-dried tomatoes. These bagged tomatoes are much different than the oil-packed style you're used to seeing (and eating). Try these, and you'll be amazed how delicate the flavors are while still bringing you what you would expect of a delicious sun-dried tomato.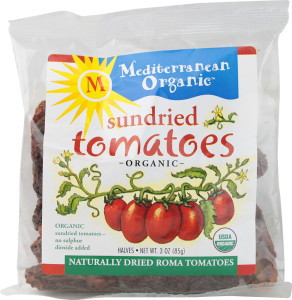 Have fun with the recipe and try using all sorts of peppers! Especially if you can get your hands on organic fresh peppers. Add some olives, nuts, and even Parmesan! Invite me over for dinner would you?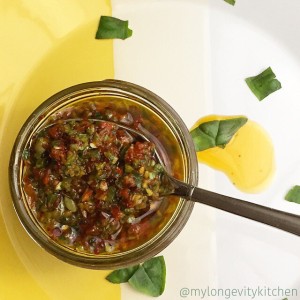 Fiery Sundried Tomato Pesto
2015-01-14 02:26:49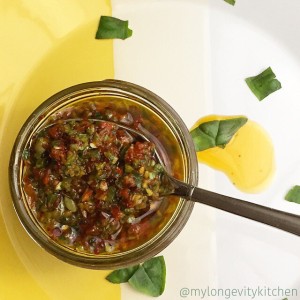 A mouth-watering combination of fiery fresh jalapeno peppers, Italian basil, garlic, sun-dried tomatoes, capers, Aleppo pepper, and of course Extra Virgin Olive Oil. This 5 minute pesto will add heat and dimension to your favorite foods like you could never imagine.
Ingredients
1 Cup Organic Sundried Tomatoes (packed without oil), roughly chopped
1 Cup Fresh Hot Peppers, such as Jalapenos, roughly chopped
3 Cloves Garlic, finely chopped or minced
1 Bunch of fresh Basil, stemmed
3 Tbsp Aleppo Pepper, or crushed red chili flakes
1/4 Cup Capers, drained
Sea Salt and Cracked Black Pepper
1/2 to full cup Extra Virgin Olive Oil
Instructions
Add the tomatoes, fresh hot peppers, and garlic to the food processor and pulse several times to finely chop and incorporate each ingredient.
Now add the Basil, Aleppo Pepper, and Capers, along with a generous sprinkle of salt and pepper. Pulse several times to crush all the ingredients together. Add a splash of oil if the mixture is too thick to process.
Taste the pesto for salt.
Scoop the pesto into glass jars, and cover the pesto with oil.
Stir the jars carefully to saturate the pesto with oil, and refrigerate.
Notes
This mixture should last two weeks in the fridge as long as it remains covered in oil
Variations: Try olives instead of the tomatoes or capers. Try any type of fresh peppers. Try Adding Parmesan and pine nuts.
Tag me with your creations! @mylongevitykitchen #mylongevitykitchen
My Longevity Kitchen https://mylongevitykitchen.com/