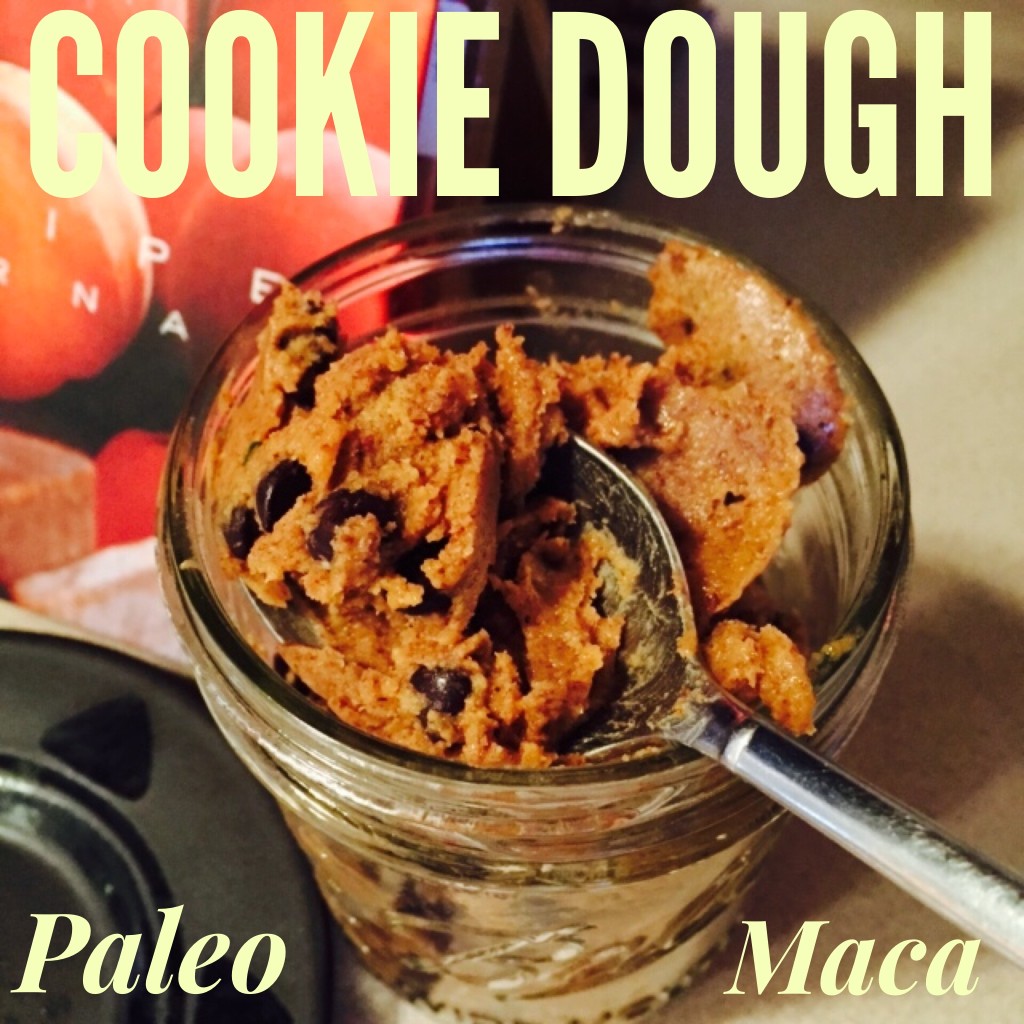 This paleo cookie dough is a major hit! I made it at least 3 times in two months. Maybe more.
I rolled it into balls and dipped them in dark chocolate for Thanksgiving too! It's super slammin' just out of the jar (with a spoon in da mouth), but the chocolate covered balls bring it to a whole 'nother level. Dare to walk passed your fridge without grabbing a nugget every time. The best part is, they are even more delicious when they're cold!

Before I tell you what's in this creamy nutty magical mixture, I must tell you about a fairly recent addition to my longevity pantry.
Since the Summer of 2014, I have been hooked on figuring out ways to get more Maca into my cooking. THIS cookie dough was the perfect vessel I tell you! Let's give Maca the moment it deserves and discuss what it is and why I want it in my food.
Maca is an Ancient Peruvian Superfood, created from the root of a vegetable high in the Andes. Superfood you say? Ohhhh yes. Maca has been prized for millennia for it's capabilities to regulate balance in the endocrine system (think thyroid, adrenal glands, ovarian and testicular glands), which in turn improves fertility, and reproductive function (might i mention it's considered an aphrodisiac?). This is especially important today because most people's hormones are out of whack due to an over abundance of estrogen in plastics and other environmental toxins. Take note that Maca is also used as a natural energy source (caffeine-free!) because of its micronutrient content, and the support it provides to the cardiovascular system. It is most popular in it's dried powdered form because of its long-lasting shelf life and usefulness. Gelatinized Maca is the form I recommend because the process by which it is made removes the indigestible starches, and you end up with a healthier, more concentrated powder. It's sweet, nutty, and earthy in taste. A little goes a long way. Most people work up a tolerance to Maca, starting with 1 Tbsp per serving, and working their way up to 2 Tbsp. Ready to try it for yourself? This is my favorite brand so far: Terrasoul Superfoods Gelatinized Maca Powder
Let's talk cookie dough!
I found the original recipe by "Girl Gone Country" on Pinterest, and I was inspired to come up with my own variation including maca. I also altered the original recipe by adding some alternative sweeteners. Why? First, to lower the glycemic index with some stevia, and then using the coconut sugar to bring out the cookie-like flavor I was seeking. Lastly, the combination of them all was sure to satisfy a certain husband's sweet tooth. Check out Girl Gone Country's original recipe here and play around with ingredients in your own way! Tag me @mylongevitykitchen on social media and share your ideas in the comments below.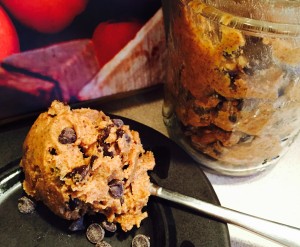 Paleo Maca Cookie Dough
2015-01-13 23:41:20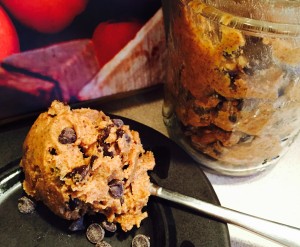 Grab a spoon and dig into a jar full of nutty, gooey, chocolatey, goodness! You can rest assured you're eating wholesome paleo superfood ingredients with this recipe.
Ingredients
½ C unsalted, grass-fed butter such as Kerrygold (or use warmed ghee and skip to step 2)
1 C Almond Butter, unsweetened (sprouted almond butter is the best choice for optimal nutrition)
½ tsp Pure Vanilla Extract
2 Tbsp Gelatinized Maca
1 Tbsp Coconut Flour
½ tsp Cinnamon
Pinch of Salt
2 Tbsp Raw Honey
2 Tbsp Coconut Sugar
2 drops liquid Stevia (Vanilla is best)
½ C Enjoy Life Chocolate Chips (or Lily's Dark Chocolate Chips with Stevia)
Instructions
In a quart-size sauce pan, brown the butter on medium heat. To brown the butter, you want to continue cooking the melted butter until it starts smelling "nutty" and sticking slightly to the bottom when you try to stir with a spatula. If you start to see black bits, don't panic. You can strain these out, and the browned butter is still delicious!
Once the butter is slightly browned and smelling nutty, remove the pan from the heat, and add in the almond butter. Whisk or stir with spatula to create a smooth mixture.
In a separate bowl, mix together the dry ingredients including maca, coconut flour, cinnamon, and salt.
Sift the dry ingredients into the almond butter mixture, and mix until smooth.
Add your sweeteners one at a time to determine your desired level of sweetness. (The coconut sugar is key to achieving a truly cookie-like flavor)
Transfer your warm cookie dough to a bowl, cover loosely, and refrigerate for 45 minutes. Set a timer so you don't forget. If the mixture gets too hard, you'll find it difficult to incorporate the chocolate chips.
Stir in your chocolate chips and refrigerate for 30 more minutes and you're done! Enjoy by the spoonful.
Notes
This cookie dough is best eaten cold out of the fridge. It does not retain it's flavor if kept in the freezer for more than a few days.
Variation: For a party-ready application, you may freeze the mixture for 20 minutes, shape into balls, re-freeze, and then dip into melted chocolate! Refrigerate until you're ready to eat them.
Adapted from Girl Gone Country
My Longevity Kitchen https://mylongevitykitchen.com/