That name is a mouthful…a mouthful of meaty greatness!
Skirt Steak is a great way to introduce grass-fed steaks into your budget. It's much more economical and has a ton of beefy flavor.
This cut can be tough or chewy if it is cut the wrong way, or even prepared the wrong way. And the beef from grass-fed animals, or animals raised on pasture, is much more lean (and full of meaty flavor), which can result in a tougher bite. That's why I chose an acidic marinade here. The lime juice in the marinade ensures a tender chew, and desirable flavor.
"Arghhh, No Marisa! I don't have time to marinate! I have a 9-5 and barely make it home in time to make dinner as it is!" I hear you friends. Now, hear me out.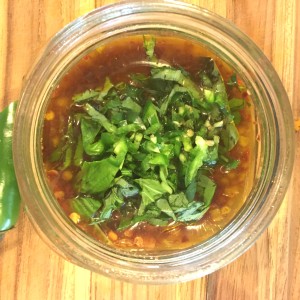 When you include acids in your marinades you are speeding up the process like crazy! You can set this aside while you prepare a salad and heat the grill, and it's already going to be amazing. I've also prepared this marinade recipe with a dual function in mind. You will be using 1/3 of the marinade for exactly that, and the other 2/3 to make a delicious sauce and dressing.
When I made this dish I made the marinade before bed. Then about 2 hours before dinner I put the steak in the marinade (that time worked for me, but you can marinade 30 minutes before dinner too). See the recipe below for more pointers and variations!
About this steak. I am lucky enough to have purchased this grass-fed skirt steak from a local rancher. Lucky for many reasons, but mainly because I know where my food comes from, I am supporting hard-working, honest farmers in my community, I know this animal lived a healthy life eating the food it was meant to be eating (the latter is not as much about my compassion for animals as it is about the fact that a healthy animal yields healthy meat).
That being said, I did not have the opportunity to choose my steak out of a lineup at the butcher counter, and inspect it for its size and accurate trimming. My steak was a little small, and thin on one end. I also had to do a little trimming myself just to remove the thick layer of excess fat. This article on Serious Eats shows you how and tells you why.
Call up your honeys and let them know that steak is for dinner! Heck, steak is even for lunch! These make great lettuce wraps. Have fun, and tag me in your photos on instagram @mylongevitykitchen #mylongevitykitchen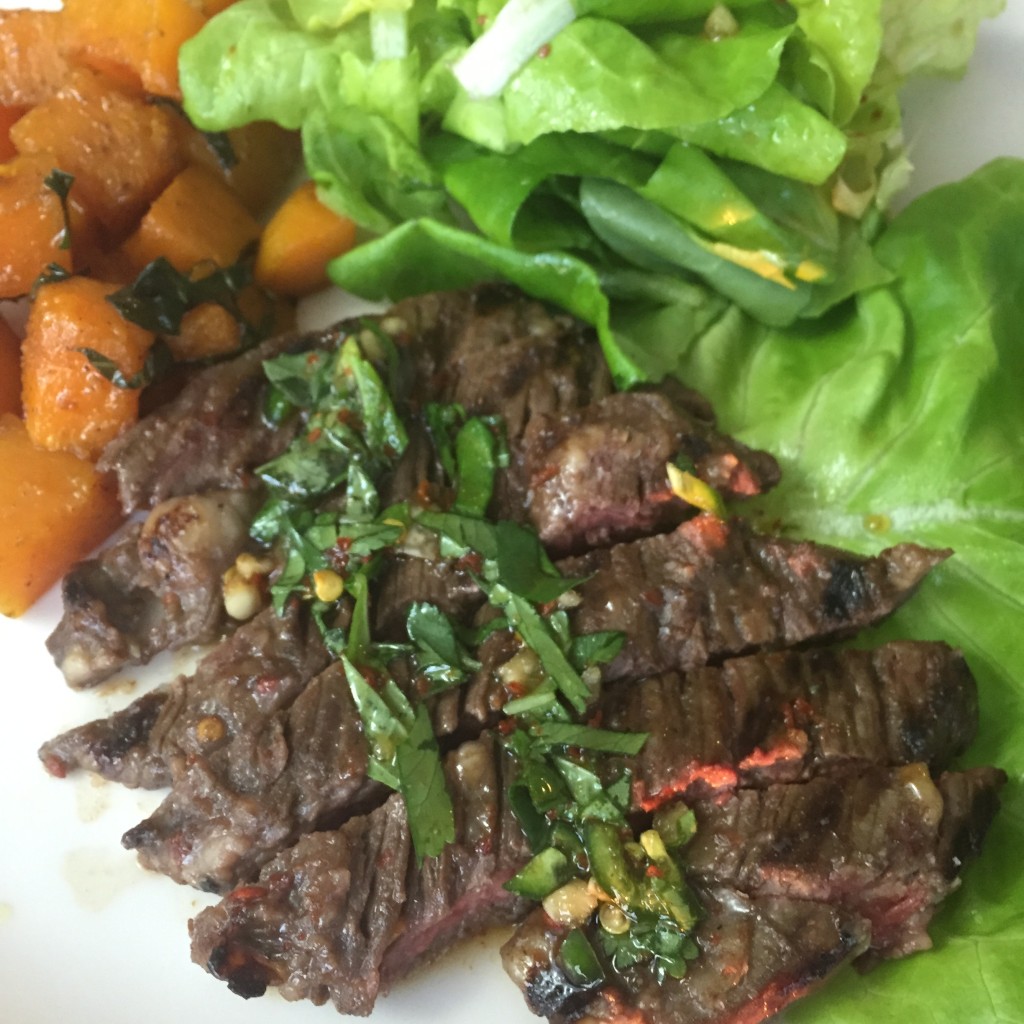 Suggested side dishes: Basmati or Calrose rice and Six-Spice Butternut Squash
Are some of these ingredients new to you? Buy a bottle of Fish Sauce if you haven't already. It lends a salty tangy dimension, like soy sauce and worchestershire combined, and is a healthy source of omega-3's. The best brand is Red Boat Vietnamese Fish Sauce. Check out my explanation of Coconut Aminos here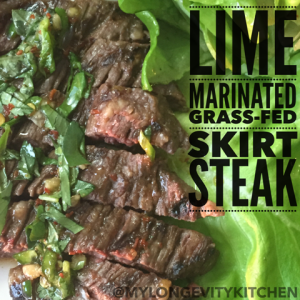 Lime Marinated Grass-fed Skirt Steak
2015-01-24 14:30:46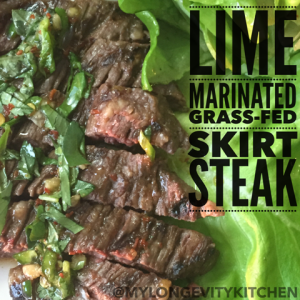 A quick marinade of lime and fish sauce tenderizes your grass-fed steak, and gets an impressive dinner on the table with ease. This dual-purpose marinade serves as a delicious plating sauce and salad dressing.
Ingredients
2 cloves Garlic, minced
¼ C Water
2 Tbsp Coconut Sugar
3 Tbsp Lime Juice
2 teaspoons Fish Sauce (or coconut aminos)
2 teaspoons crushed red pepper
2 small grass-fed skirt steaks, up to 1.5 lbs total weight
4 fresh Basil Leaves
2 Tbsp Cilantro or Parlsey
2-3 Tbsp Extra-Virgin Olive Oil
½ fresh Chili Pepper, diced
Butter/Bib lettuce leaves, or Salad Greens for two
Instructions
In a small glass jar with a lid, mix together the water and coconut sugar, garlic, lime juice, fish sauce, and crushed pepper. Shake it all up and set aside.
Pat the steaks dry with paper towels and place them in a gallon-size Ziploc bag.
Marinate your steak at room temperature 30 minutes before dinner by adding 3 Tablespoons of the marinade to the Ziploc bag with steak. Swish it all around to coat the steak.
IMPORTANT NOTE: Max marinade time for this recipe is 2 hours refrigerated. You MUST refrigerate the steak while marinating if you go longer than 30 minutes because this is a salty/acidic marinade. Marinating any longer will ruin the taste and texture completely. Remove the steak from the fridge 15-30 minutes before cooking so it can come to room temperature.
Once ready to cook, heat a grill pan, cast iron pan, or heavy bottomed pan; and coat the grill with a high-heat fat like ghee, avocado oil, palm oil, or palm shortening. You want the grill pan nice and hot before cooking.
Remove the steak from the bag and shake off the excess marinade.
Grill the steak 3 minutes on the first side and sprinkle with sea salt while grilling.
Flip the steak and cook 2 more minutes on the other side, sprinkle with sea salt.
Place the steak on a plate to rest for 3 minutes before plating.
Meanwhile, add the herbs, olive oil, and diced chili to the jar with the leftover dressing. Shake it up.
Spoon the dressing over each steak as you serve. You can use the lettuce to make a wrap or you may toss the greens with the leftover dressing.
Notes
Make the marinade the night before, and add to the steak when you get home from work. Then by the time you're ready to grill it will be ready to go!
I suggest serving this for dinner with basmati rice, and my six-spice butternut squash. Makes a great lunch all by itself with the salad or lettuce wraps.
This recipe works with flank steak too. Flank needs longer cooking time by 2-4 minutes extra per side.
My Longevity Kitchen https://mylongevitykitchen.com/