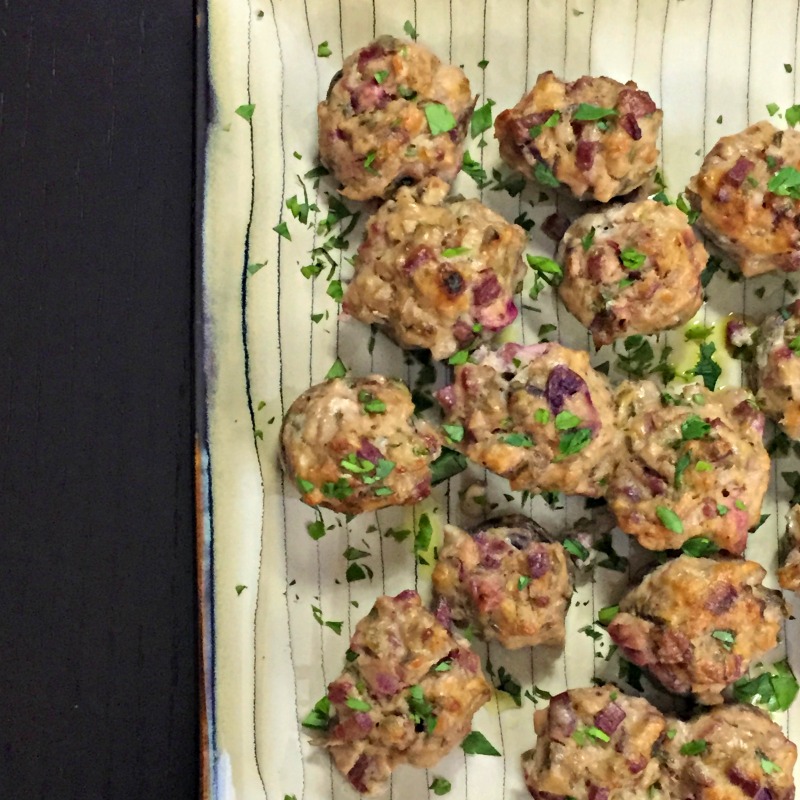 I've always been a stuffed mushroom fan. You can really stuff them with ANYTHING.
I remember when my husband Eric and I first tried paleo, maybe 6 years ago, we used to make these all the time as a snack! He was amazed how easy it was, and how we could "wing it" with whatever we had in the fridge. That's actually how I ended up using dried sausage for the filling…that's all we had!
I feel like this calls for a quick story on why we tried out paleo 6 years ago. Eric and I have always bonded over dieting, staying in shape, and taking care of our physiques. I was the one that found it hard to stick to such a regimented workout schedule, which means I would be left scrambling to tone up at the last minute before a body-baring vacation or boat party. Eric introduced me to the low-carb diet because you can easily lose a significant amount of body fat if you cut out carbs and eat more protein and fat. That is a sure thing for anyone and everyone. I was not gluten free at the time, and was a typical dieter that believed low fat and whole grains would keep me thin. This low-carb thing blew my mind!!! Especially when I saw results, I was just amazed. Back then, we would only do low-carb to lose a few pounds, and then we would return to our regular "extra-lean jenny-o ground turkey and brown rice diet". The immediate results of the low-carb paleo diet is one of the reasons why it was easier for me to transition to gluten-free and paleo when the time came for such a major shift in my lifestyle.
Back to the mushrooms…shall we?
One trick to add to your mushroom-stuffing arsenal is to marinate them, like you see here in my recipe below. This allows you to add flavor to the bland mushrooms (don't take offense mushroom lovers…it must be the delicious stuffing that typically makes them taste so bland) and add moisture, so you don't have to add a splash of water to the baking dish like you'll usually see in other stuffed mushroom recipes.
Don't be afraid to play around with the ingredients here! If you don't eat cheese, add some mashed avocado (What?). And if you don't like goat cheese, then try it again because it's awesome. Kidding, not kidding. I was surprised how many people want to try this recipe even though they don't like goat cheese. Well, the goat cheese is the star player here…so if you want to try something new then I suggest mixing half goat cheese, half mascarpone or cream cheese. I have made these before with mascarpone, and they are incredible! If you are using one of these soft cheeses instead, then you'll want to add the cheese in with the sausage at the end, when you add the parsley. That way it will all melt and mix together into a lovely creamy mess.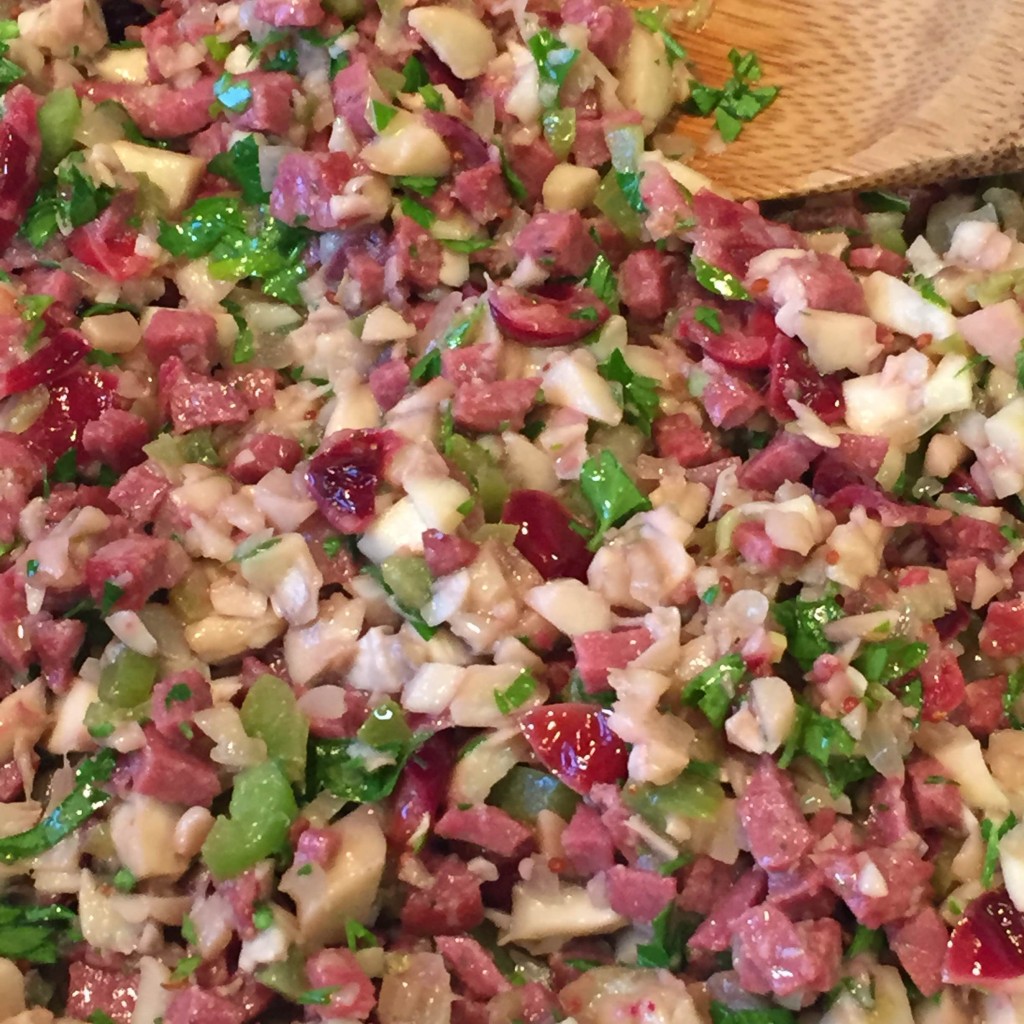 Happy Stuffing.
Speaking of stuffing, don't skimp on it just to get a pretty mushroom. Stuff those babies until the stuffing is all gone! Pile it across the neighboring mushrooms like you're spreading frosting on a cake, and thank me later for the deliciously irresistible "scrumplings" that you will be eating off the bottom of the pan after baking. That is the best part!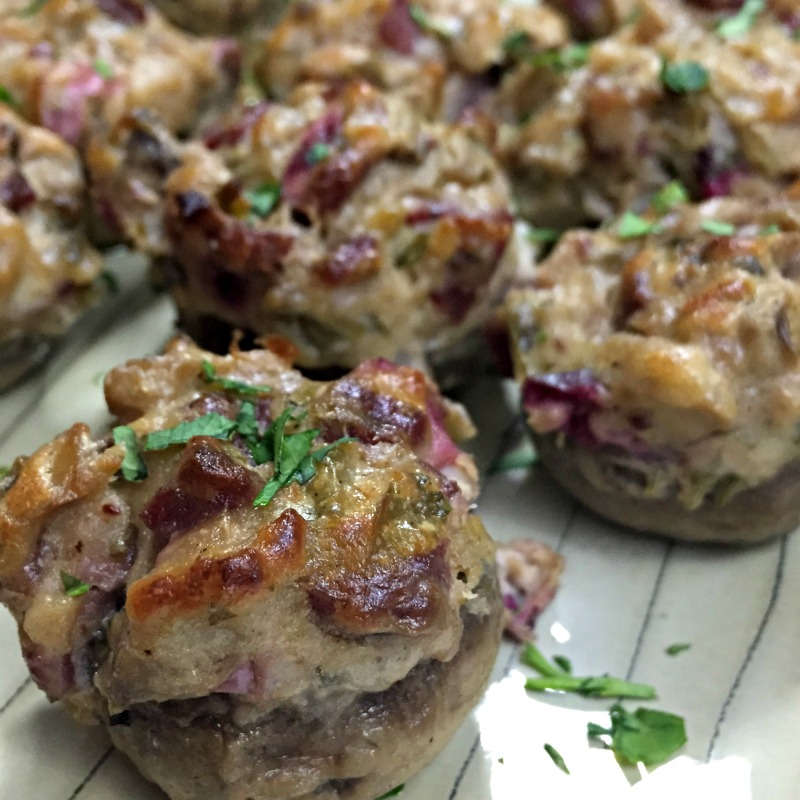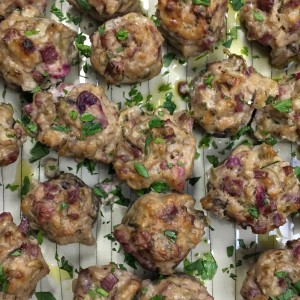 Goat Cheese Stuffed Mushrooms
2015-01-05 00:45:28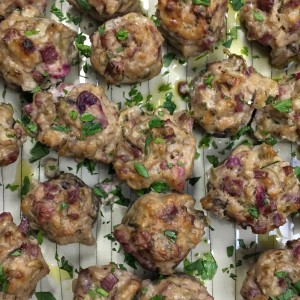 This sophisticated take on a classic will have your goat-cheese-loving friends and family oo-ing and ahh-ing over the creamy, tangy filling. Use this preparation for any stuffed mushrooms and play around with the fillings for more variety! You can freeze the mushrooms before or after baking, for future use.
Ingredients
2- 8 oz container stuffing mushrooms (large white or baby bella work best)
1/2 to 1 full cup (4 oz or more) cured sausage such as salami, soppresatta, or spanish chorizo, finely chopped
Butter or fat to saute
3 Tbsp White Wine (divided 2 Tbsp and 1 Tbsp)
1 Tbsp Apple Cider Vinegar
2 Tbsp Extra Virgin Olive Oil
1/2 Jalapeno, small dice (leave this out for milder heat)
3 Scallions, sliced fairly thin
2 Garlic Cloves, minced
2 Tbsp fresh parsley, minced (you may sub any delicate greens spinach or fresh herbs here)
1 Egg
4 ounces crumbled goat cheese (keep chilled until needed)
Salt & Pepper
Optional: Grated Italian Cheese such as Parmesan, Peccorino Romano, or Grana Padano
Optional: Gluten-free flour or breadcrumbs for additional binding (such as potato starch, brown rice breadcrumbs, almond meal, etc...)
Instructions
Preheat the oven to 350 degrees F.
Clean the mushrooms any way you wish. Running water, bowl of water, paper towel, whatever! Don't listen to the hype about not washing your mushrooms.
Prepare the mushrooms by removing the stems, and set them on your cutting board.
Create your marinade in a bowl large enough for the mushrooms by mixing 2 Tbsp wine, 1 Tbsp Apple Cider Vin, 2 Tbsp Olive Oil, and a sprinkle of salt and pepper. Add the Mushrooms and toss to combine.
Heat 2 Tbsp Butter in a saute pan on medium heat and add your diced sausage.
Dice up your mushroom stems fairly small, and set them aside with your jalapenos, scallions, and garlic.
Checking back on your sausage which should be browning nicely, give it a stir, and now you may add your stems, jalapenos, scallions, and garlic. Give it a little sea salt and mix around until you smell all the yummy garlic, and the stems and jalapenos start to soften.
Add 1 Tbsp white wine to the pan, and stir around to incorporate. Let the mixture cook 2-3 more minutes until most of the liquid is evaporated. Taste for Salt.
Turn off the burner and remove the pan from the heat so it can begin to cool. Mix in the minced parsley or herbs now.
Meanwhile in another bowl, beat the egg, and add in the goat cheese.
Find a pan that will fit the mushrooms rather snuggly, so they don't slide around. Line the pan with parchment or foil for easy cleanup.
Add the cooled sausage mixture into the bowl with the egg and goat cheese. If using parmesan or grated cheese, add 2 Tbsp or more. Mix well and taste the mixture. When in doubt, add a bit more salt because the filling needs to be slightly salty to compliment the mushrooms.
If your mixture is too loose or warm, you should refrigerate to help tighten it up before stuffing. You may also add a binder such as gluten-free flour or breadcrumbs, 1 tablespoon at a time until you reach the desired consistency. I highly recommend refrigerating the mixture for 10-15 minutes.
Begin stuffing each mushroom and adding it to the baking dish.
Once you have stuffed each mushroom, start adding the remaining stuffing across the tops of the mushrooms so they are overflowing. Everyone wants more stuffing, so use it all!
Bake the mushrooms uncovered for 20-25 minutes. You may broil the mushrooms for a short time at the end if you'd like more browning on top (not recommended with parchment paper).
Sprinkle with fresh parsley when serving.
Notes
For a more mild flavor, the goat cheese can be mixed with mascarpone, or cream cheese, or swapped out all together. These creamy substitutes are best stirred into the hot pan right before you remove it from the heat.
Tag me on instagram with your stuffed mushroom photos! #mylongevitykitchen @mylongevitykitchen
My Longevity Kitchen https://mylongevitykitchen.com/