---
Workshops…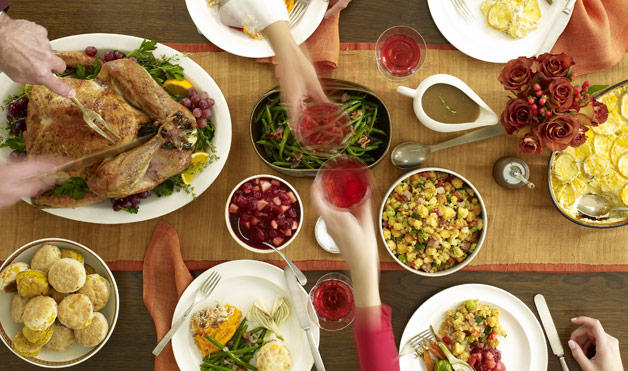 It is possible to stick to your goals and still enjoy the holidays…
I'm so excited to share this with you, you guys! I've created an online video workshop called:
Holiday Survival Tips for Your Real Food Lifestyle
I put a lot of my personal experiences into this content, sharing with you my tips and tricks for staying on track, all while fitting in as comfortably as possible (no, we're not talking about exercise). It is designed to inspire you, getting you thinking ahead, and prepare you for a healthy holiday without the dreaded deprivation or regret.
Have you given up certain foods lately for your health and wellbeing?
Have you removed foods from your diet because of food intolerances?
This workshop is for YOU!
Do you want a sneak peek?
Head over to this preview page so you can watch my 4 minute introduction video. I'll tell you all about who it's for, and what you can expect to see in the workshop.
And it's only $10! Included is a 14-day access pass to the members-only video platform, online, where you can view the 27 minute workshop video as many times as you wish! You also get a variety of PDF's to download so that your workshop experience is full of take-home advice, and actionable tips.
The timing couldn't be more perfect so you can be prepared for all the food and festivities happening this week!

…already know you want in? Head over to register right here and select "Holiday Survival Tips".

Update: I am exploring different ways to get this information to you. First idea? Online workshops. Check out my latest with is described above. Next? In-home workshops: friends and family that you choose, and a comfortable time and setting for all. Email workshops@mylongevitykitchen.com to book now.
What you can expect during these presentations:
I'll walk you through a slideshow presentation, guiding you through the American food system, and arming you with the defenses you need to promote longevity. If you're tired of the dieting world, and all of the conflicting advice, this class is perfect for you! I will simplify our food system, giving you the tools to decide what's best for you and your body. Setting aside all dogmatic principles, and even conventional wisdom, we will look to our ancestors and evolutionary past to determine what foods will help us thrive!
Email: workshops@mylongevitykitchen.com with questions or to reserve your spot.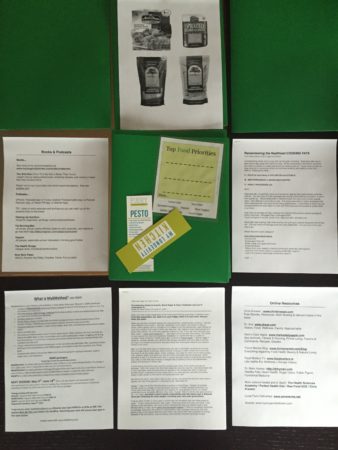 Topics include…
Why are we so confused about what to eat? Where did we go wrong?
The rise of modern disease in relation to modern agriculture
How can grains and legumes be dangerous or prepared to be healthful
What chemicals are lurking in our foods
Sugar and it's many aliases.
Issues with Conventional Meat & Dairy
FDA & USDA's lack of standards
Choosing the right fats for different cooking temperatures in order to avoid cancer-causing free radicals
Embracing traditional superfoods
What foods are worth the extra money
Signs of food intolerances
Why the rise of food intolerances?
Defining your personal food priorities
Where to learn more (my favorite books and podcasts)
And so much more!
Email workshops@mylongevitykitchen.com to RSVP
Private & Corporate Presentations available for booking. Contact Marisa Moon: workshops@mylongevitykitchen.com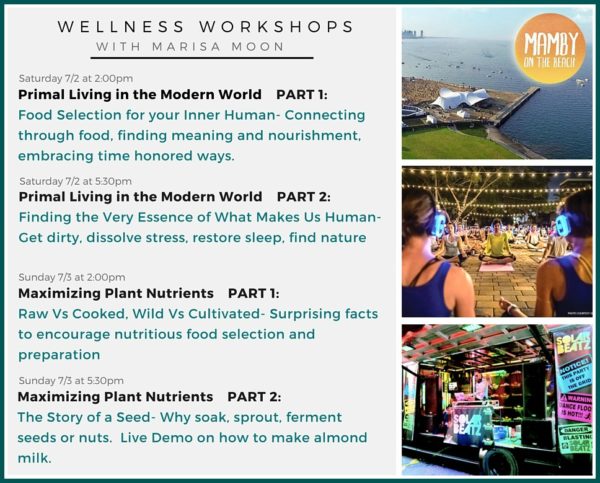 This Summer I was speaking live at this innovative Chicago festival on the beach! Comment below if you're interested in these topics but could not attend. I may make these presentations available for download in the future.
Read more about these workshops and the entire event here.
---
Meetups…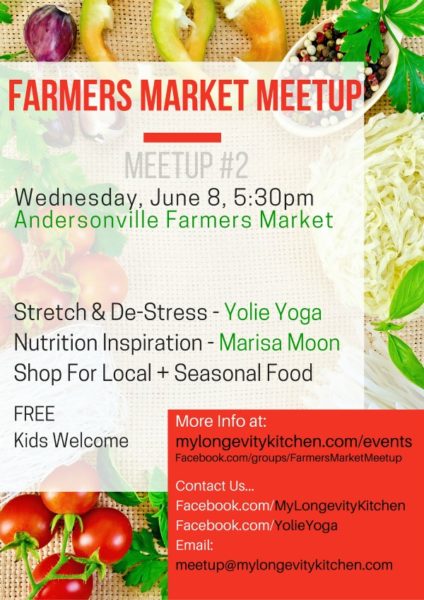 Join us for a monthly Farmers Market Meetup as we visit a new farmers market each month! This meet-up is great for anyone in Chicago and the surrounding suburbs, who wants to get outdoors, stretch your muscles and practice some basic yoga; discuss current food trends and get inspired to eat more nourishing foods; explore the farmers markets and buy your food from local growers.
Here's What You Can Expect:
*Welcoming Refreshment such as purified water infused with essential oils or fresh fruit
*Welcoming Speech from Marisa Moon regarding nutrition headlines and inspirational trending topics
*Aromatherapy Spray to help center our thoughts
*15 minute Standing Stretch-Yoga Routine led by Yolie Carerra of Yolie Yoga
*Closing talk with Our Favorite Picks & Recommendations for your farmers market haul that day
*Try This at Home Tips, including one nutrition tip of the month and one Breathing/Stretching tip.
*Break away and enjoy the farmers market shopping experience at your own leisure.
No Yoga Experience Needed
No Yoga Mat needed unless you'd like to deepen the poses.
EXACT Meetup location is announced with photos in the Farmers Market Meetup Facebook Group discussion. We're meeting on the corner of Ashland and Berwyn where the market "ends", right under the street signs at 5:30
Invite your Friends & Family!
Post questions and comments below or email Marisa at meetup@mylongevitykitchen.com.